Every year we travel across country to the various trade shows such as CEDIA, AXPONA, and CES always wondering why nobody hosts audio shows in Florida, particularly Tampa, our virtual backyard. Our weather is great almost all year round and we've got some of the best beaches in the country, plus, I'd selfishly really like to travel less. This year I was pleased that our wait was over. An audio show was hosted in Tampa Florida from February 8th -10th at the Embassy Suites hotel. The show featured over 40 demo rooms spread over 6 floors all of which packed in crowds continuously for the 3 day event.
Bart Andeer, founder of Resolution Acoustics and manager of the daily operations for the Florida Audio Expo hosted the show with help from Sue Toscano and Angela Speziale. There was no cost for attendance or registration required which really helped open up an audio-centric show to the public. We were proud to be one of the sponsors and press along with other publications such as Stereophile, Soundstage, Enjoy the Music and others covering this event.
More info here: www.floridaaudioexpo.com
Some of the featured brands included: Anthem, Cardas Audio, Classic Audio Loudspeakers, Esoteric, Harbeth Loudspeakers, Legacy Audio, Luxman, Magico Loudspeakers, Mark Levinson, MartinLogan, MBL North America, Paradigm, Parasound, Pro-Ject, VAC, Von Schweikert Audio, Wilson Audio Specialties, and many more. The focus was on very high-end two-channel audio. Qobuz Hi-Res streaming and download service was the official streaming service for this inaugural show though many manufacturers were spinning vinyl and even one, MBL, had a full reel-to-reel setup going. Unfortunately I missed that demo but heard from other attendees it was quite impressive.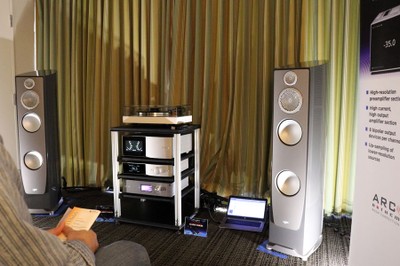 Paradigm Persona 9F Speakers with Anthem STR Separates

Anthem & Paradigm
The Anthem / Paradigm room was hosted by the folks at MaximumAV. This room just killed it. I heard several attendees claim it to be the best sound of the show and that's no surprise considering they were running Anthem STR separates and Persona tower speakers. Both brands benefit from a very scientific approach to audio design and testing, including the pioneering loudspeaker research at the NRC. Bass was deep and tight partly thanks to ARC room correction but of course mostly due to excellent design execution on Paradigms part. The Persona's imaged like bastards, had excellent bass extension, exhibited articulate vocal clarity and played hella loud and clear. There was almost too much speaker for the room as they did sound a tad bright, but that's not necessarily a bad thing as much as it's a testament to how much sound they were able to belt out.
Tributaries provided the high quality, snake oil free interconnects and speaker cables. Their stuff may be pricey, but it's built extremely well and doesn't contain embarrassing pseudoscience that gives high end audio a bad reputation. It was nice meeting up with Joe Perfito to talk cables and reminisce about old audio stories.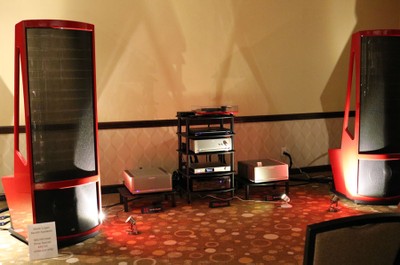 MartinLogan Neoliths with Parasound Electronics

MartinLogan & Parasound
The MartinLogan and Parasound demo room was hosted by Integrity Sounds. They featured the massive Neoliths and another set of more down to earth electrostatic towers. Parasound amps provided the power which is always a good thing. We've bench tested and reviewed older Parasound Halo amplifier designs and found them to be based on solid engineering principals with excellent build quality. Though sadly, like many of the other demo rooms, cable snake oil was in high presence with Audioquest making the connections.  Still the Neoliths were an impressive sight both visually and audibly and the room was an audiophile's paradise. I was fortunate to have actually spent a good deal of time personally demoing these speakers in a dedicated room at MartinLogan's headquarters in Lawrence, Kansas a couple of years back. My one word summary of the experience was "mesmerizing".
MartinLogan Neolith YouTube Overview and Review

JBL & Mark Levinson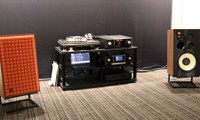 We finally got to hear the new L100 speakers from JBL. At $4k/pair, these were some of the most affordable fullrange speakers at the show. They were based on the classic model from decades ago but with modern driver technology and crossover design benefiting from years of research by Harman. Vintage audio is thriving today and JBL is one of the greatest success stories in that regard. According to Jim Garrett, Senior Director, Product Strategy and Planning, Luxury Audio, Harman:
"The original L100 speakers were not only JBL's all-time, best-selling loudspeakers, but, from all indications, they were the best-selling loudspeaker system of the decade."
The new L100 speakers feature Harman's patented waveguide for improved directivity on their titanium dome tweeter and the very rugged 1200FE 12-inch (300mm) cast-frame, white pure-pulp cone woofer to give it the vintage flare with authority. The Quadrex foam grille screamed 1970's, but this is vintage and so many enthusiasts simply love that. I personally prefer the look of no grilles to see those sexy woofers in action. The L100s mustered up impressive bass extension for a smallish cabinet and the overall sound was good though I expected a little more vocal clarity. I do think positioning and poor room acoustics were doing no favors for these speakers, however.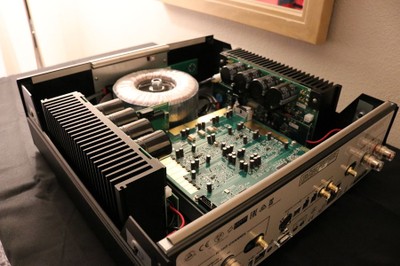 Mark Levinson No5802 Integrated Amplifer
Notice the large toroidal transformer and dual heatsink monolithic construction

The system was powered by gorgeous Mark Levinson electronics including a No5802 Integrated amp, and their new No515 turntable. Sadly Transparent cables connected the system which even the rep at Harman acknowledged wasn't a necessary component but something some of their dealers love to promote.  Transparent Cable "more profits here" banners used to drape their exhibit booth at past CEDIA shows so I can understand why. Perhaps the cables were the limiting factor in this demo? I just don't trust a cable with a big RLC box attached to it. There should be no legitimate reason to add a stabilizing network to a piece of wire. A good amp connected to a properly designed loudspeaker needs no such gimmickry. JBL and Levinson don't need band aid fixes for real engineering. In fact, if I were setting up this system for a client, I would reappropriate the money saved NOT including these cables toward upgrading the speakers to the JBL 4367 speakers and call it a day.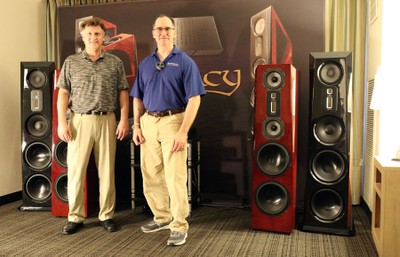 Bill Dudleston (left) and Yours Truly (right) standing next to Legacy Focus SE and Aeris Speakers

Legacy Audio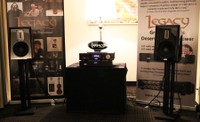 Legacy came full force with a demo of their Focus SE speakers in their primary demo room and the Calibre's in their actual sleeping room with the bed removed of course.  Both setups were powered by Legacy electronics with their Wavelet DSP and room correction system. Bill Dudleston was there along with his lovely daughter Victoria to host the demos. Bill showed me the before/after measurements and how effective the Wavelet was at taming room modes in the demo room. We were seated right up against the backwall, a pressure maximum, but yet, the standing waves weren't killing us or coloring the presentation. The real star of the demo for me was the smallish Calibre speakers that threw off a soundstage on a Sia track we listened to that simply bellied the size of the speakers. These are good folks over at Legacy, and with no cable snake oil present, it was a refreshing surprise. Bill Dudleston is someone I can talk hours with about audio and not feel like I'm being told a fish story.
Unfortunately as the prices of audio equipment go up, so often does the audio nonsense to justify the prices. I really wish companies wouldn't resort to pseudoscience to justify their prices and just let consumers decide with their wallets instead. Misinformation in audio is perhaps my biggest pet peeve. This is why you see the majority of coverage on this website from companies that we believe promote legitimate science in this field.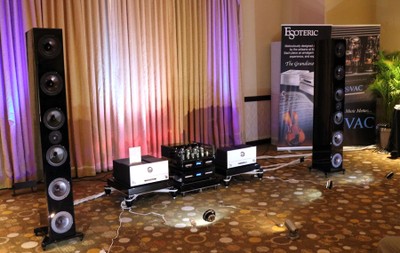 Von Schweikert Towers and Cables along with VAC Electronics

Von Schweikert & VAC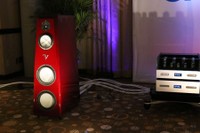 Von Schweikert along with the Audio Company that hosted probably wins the award for most expensive equipment packed into a demo room. They had  a full array of electronics from VAC that I'd dare not ask the price, and a couple of pairs of speakers and a massive, beautifully crafted turntable that even had me salivating. The large towers they were demoing sounded very good from what we heard as they should at a whopping $40k/pair. I like the fact that Von Schweikert employs MTM's in many of their larger tower designs and having two bass drivers top and bottom of the cabinet helps to increase modal density to offer a smoother bass response in the room. The only complaint I had was the MTM array was a bit too low at seated ear level position. It had me wondering why they didn't space the top and bottom drivers more closely together to have enough vertical real estate to move the MTM up another 4-6 inches.
Von Schweikert & VAC Demo Room @ Florida Expo 2019

Seeing the garden hosed sized exotic cables in this room furnished by Master Built Audio cables, was amusing, especially when we later noticed they featured cable elevators. We thought for sure that audio tweak was dead but lo and behold, Von Schweikert is keeping that nonsense tweak alive by showcasing it in their demo room. A quick peer at Master Built Audio cables website revealed their cables are chock full of snake oil theories and claims. They of course claim their cables are a result of several decades of research in metallurgy, electrical field effects, and the chemistry of dielectric materials and that they used ABX testing to determine which metals sounded best. After about a page of pseudoscience nonsense, they then claim to be "engineering driven, not marketing driven". Really? This all seemed like fake news to me. Interestingly, they claim Von Schweikert is their largest distributor so it's no wonder why their cables were draped all over the room. Suffice it to say, the demo room was very nice looking and it certainly turned a lot of audiophile heads.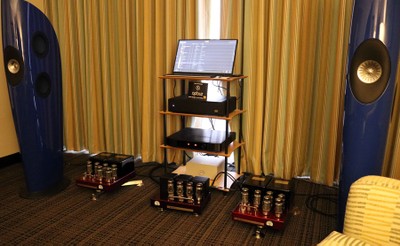 Carver Crimson 275 Tube Amp and KEF Blade Speakers

Carver and KEF
Carver isn't a name I've seen in quite some time but it's good to see them back in full force. They had an array of new tube amplifiers but Bob Carver being the clever engineer he is, put a twist on these. The Crimson 275 amp retails for $2,495 and puts out a modest 75 watts/ch but you'd never know that listening to the demo with the Kef Blades. The room was filled with sound and it was articulate and clear like you'd expect of a flagship type concentric speaker from KEF powered by good solid state electronics. The Crimson 275 doesn't operate like most tube amps. Instead, it runs cool and has long durability thanks to it's DC restorer circuit that lowers distortion and keeps the bias optimized to reduce heat dissipation. In fact, Carver is so confident in their design that they offer a 5 year warranty on the tubes which is the longest in the industry as far as we know. Carver claims the internal temperature of their amplifiers is a bit warmer than the inside of your mouth, resulting in an indeterminate lifespan. We touched the tubes to validate their claims and didn't burn our hands in the process. Carver claims their tube amps are load invariant unlike most conventional designs and that they integrate the back EMF from the loudspeaker to enhance the soundstage. I'd like to get this amp on my test bench in the future to attempt to validate these claims but for now I have to say I enjoyed the demo and didn't feel a lack of power based solely on their spec. The 275 appeared to have good headroom for a small tube amp. Also, tube amps tend have a more pleasant sound when clipping so maybe that factored into why it always sounded clean to my ears.
Conclusion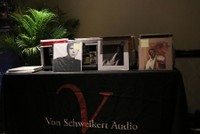 The one thing that struck me well about this show was the amount of positive energy among the attendees. It's a beautiful thing when people come together to share in their common passion of audio. It was refreshing to see so many young faces in an era dominated by portable compressed streaming audio and earbuds. I met a young whippersnapper that was here with his mom just eating up the audio jargon and experiences he heard in each demo room. We need more shows like this that allow consumers to come and experience high fidelity audio. I believe it inspires folks to take the time to sit down and actually enjoy and digest their music rather than just having it streaming in the background as a second thought.
The Florida Expo show was brilliantly executed, especially being it's debut show. It was a pleasurable experience to peruse the hallways and check out all of the great gear. My biggest gripe was the painfully slow elevators which was a problem with the Embassy Suites Hotel, not the people running this show. Some of the demo rooms could have been a bit bigger, but I just don't think the folks hosting this show expected such a large turnout with such continuous traffic flow. That's a good quality problem to have for sure.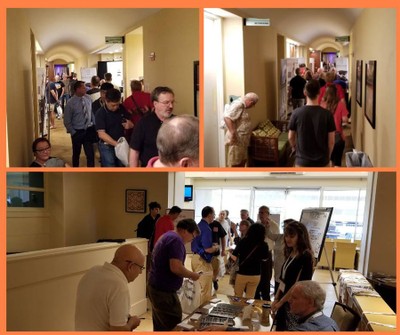 The audiophile spirit was alive and well at this show but we'd also like to see more affordable options for budding audiophiles that want good sounds at more down to earth prices. Bart assured me the Florida Audio Expo show will be back again next year and we are vying  for it to include educational seminars to weed out the pseudoscience and help consumers make more informed purchasing decisions to maximize their audiophile experience.
Would you guys sign up for seminars if we hosted them pertaining to cables and amplifier power claims? I'm just itching to lay the gauntlet down on those topics in a public venue. Please let us know in the related forum thread below and also share your experiences at the show if you attended.
gene posts on February 12, 2019 01:38
_xa_2pxjKec
gene posts on February 12, 2019 01:15
We were proud to be one of the sponsors and press along with other publications such as Stereophile, Soundstage, Enjoy the Music and others covering the debut Florida Audio Expo show last weekend (Feb 8th – 10th, 2019) that featured over 40 demo rooms focused on high-end two-channel audio. I took a closer look at demos that really stood out from Legacy Audio, Paradigm, MartinLogan, JBL, Carver, Von Schweikert and also noted the snake oil cable stuff along with a particular "high-end" tweak that I thought was long gone. Check out this report and be sure to watch our YouTube channel for additional coverage and interviews.
28200
Read: Florida Audio Expo Show Report
Would you guys sign up for seminars if we hosted them pertaining to cables and amplifier power claims? I'm just itching to lay the gauntlet down on those topics in a public venue. Please let us know in this forum thread below and also share your experiences at the show if you attended.