Among speaker manufacturers at CES 2019, Klipsch brought the most new products and product announcements. The spread of new products includes a host of wireless earbuds, portable blue tooth speakers, sound bars, and an assortment of other wireless speakers. There is a lot to cover here, so let's get started with the earbuds!
Klipsch T5 Neckband (left), T5 True Wireless (right), T5 (lower right) 
Klipsch's new earbud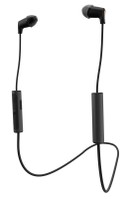 line is called the T5 series. There are four products in the T5 series: The T5M, the T5, the T5 Neckband, and the T5 True Wireless.
…
Read the full article