The Esoteric K-01X SACD/CD player that I recently reviewed was an amazing performer. It was my first experience with an Esoteric product and I found it to be extremely impressive—one of the most impressive components that I spent time with in 2016.
In support of my extensive series on integrated amplifiers, I was also given the opportunity to audition the Esoteric F-05 integrated amplifier. I put it on the back burner as I had several projects already committed, but that was a mistake. The F-05 is an ardent overachiever and possibly just as admirable as the K-01X. Both deserve the immediate attention of our readers as they both provide superb alternatives within their price points and well beyond. 
In addition to exceptional design and performance (see below), when it comes to aesthetics, I cannot remember so many fervent accolades from my local audio buds in quite some time. Not since the striking Sonus Faber Stradivari speakers were positioned in my listening room have I heard so much fanfare. 
When stacked in a simple cabinet or shelf system, I have to agree that the F-05 and K-01X make for quite a grand and resplendent pairing (for many reasons beyond just looks). And yes, simplicity and system synergy are the keys. Add a pair of similar performing speakers and you have a true high-end system that can compete on any variable or consideration.    
 Review System
Magico Q7 Speakers
Sonus Faber Stradivari Speakers
Pass Labs X350.8 Stereo Amplifier
Pass Labs XP-30 Preamplifier
Audio Research Reference 6 Preamplifier
Devialet Expert 1000 Pro Integrated Amplifier
Esoteric F-05 Integrated Amplifier
REL G25 Subwoofers
Playback Designs MPS-5 SACD/CD Player
Esoteric K-01X SACD/CD Player
Oppo BDP-105D SACD/CD Player
Aurender N10 Music Server
Synergistic Research Element CTS Cable Throughout
Rix Rax Hoodoo Component Rack
Magico QPod Footers
Caveat Emptor
System synergy and personal taste are critical when evaluating high-end audio products. This review is based on my subjective requirements, my subjective ears, my specific system and my specific listening room. This combination is only one data point of many that exist out there for these components. Please consider my comments and analysis appropriately.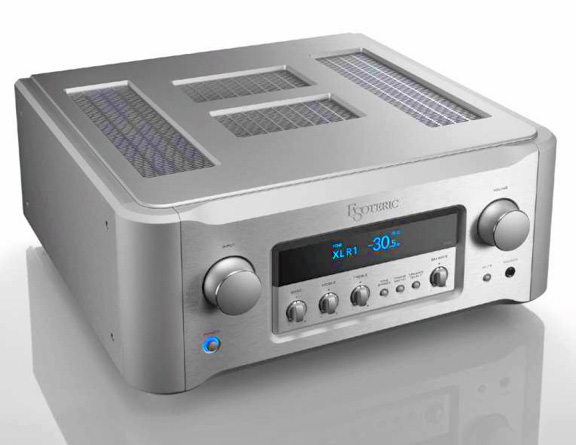 Design
The Esoteric F-05 ($10,000) integrated amplifier is another premier performer from Esoteric with several innovative design choices that can differentiate it from the competition. That includes aesthetics, circuit design, feature set and ergonomics.
Again, the fit and finish of every Esoteric component is second to none. Casework and curb appeal is absolutely fabulous. Pride of ownership is right up there with the best. In my home at least, the WAF (wife acceptance factor) was extremely high.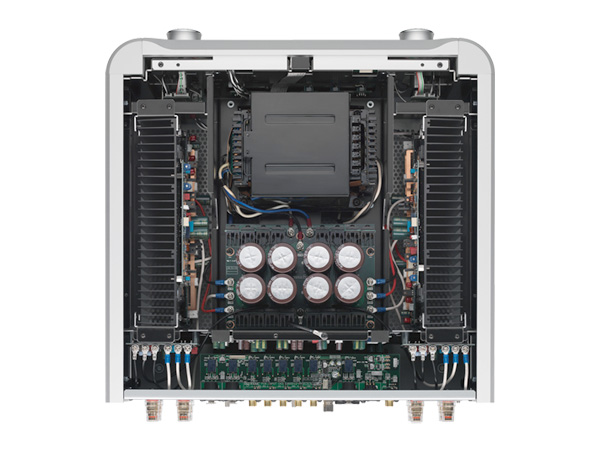 Based on the Esoteric Grandioso C1 preamplifier ($35,000) and Esoteric S1 stereo amplifier ($26,000), the F-05 is a Class A/B, fully balanced dual monaural design that maintains complete left and right channel independence through all stages, from preamplifier to the power amplifier's final stage.
The power supply of the F-05 is massive. This includes large-core 940VA custom EI power transformers and 40,000µF block capacitors. Again, this is implemented for each channel in a dual monaural configuration. Power is rated at 120 watts at 8 ohms and 240 watts at 4 ohms. 
Additional highlights include a proprietary volume control system, a dual mono phono stage (MC and MM are supported), a high quality headphone stage and a flexible three band tone control. All of these design elements are extremely sophisticated implementations with the very best in terms of both parts and execution. Please see the Esoteric website for additional details.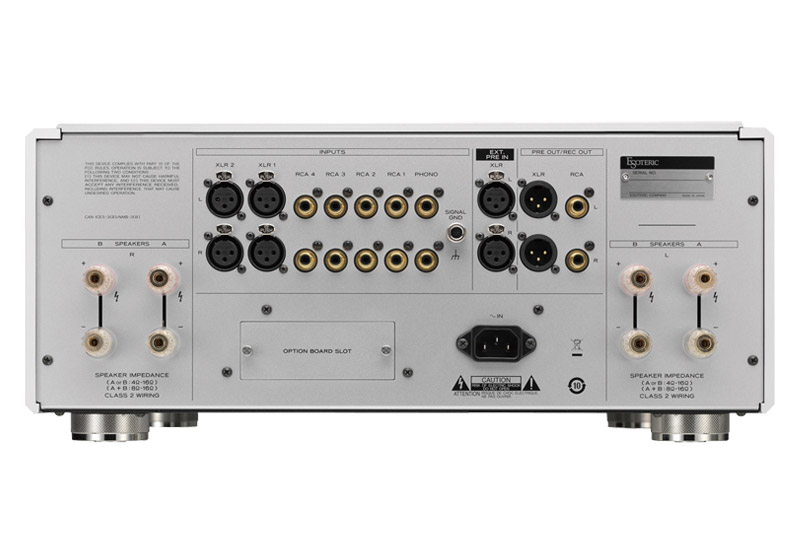 Analog inputs include two XLR, four RCA and one RCA Phono. One XLR input is also provided for Pre In. Analog outputs include one XLR and one RCA for either Pre Out or Rec Out. A standard off the shelf 15-amp power cord is included though a standard IEC input is also provided for aftermarket power cord purchase and flexibility.
System upgrades can also be performed. A card expansion slot facilitates the installation of an optional OP-DAC1 D/A Converter Board. Toslink, Coax and USB type B digital inputs are provided. Toslink and Coax digital inputs support up to to 192kHz/24-bit PCM. The USB type B digital input supports 384kHz /32-bit PCM and 2.8, 5.6 and 11.2MHz DSD. Like the Esoteric K series, the F-05 board utilizes AKM DACs in a dual/mono configuration.
The front panel is beautifully laid out with controls for Power, Volume, Input, Balance, Mute, Phono, Speaker, and the three band tone control (Bass, Middle, Treble, and Bypass). The front panel display affords all the necessary control information with excellent size and visibility from most listening positions.
A nicely designed remote with considerable heft and all the functions you could want is included. This is the same remote used with the K-01X so if both components are in the system, one less is required. The F-05 weighs in at 32kg (71lbs.) with the following physical dimensions: 445mm x 191mm x 468mm (17 5/8″ x 7 5/8″ x 18 1/2″). 
Sound
The Esoteric F-05 integrated amplifier made an immediate impression when added to my listening room system. Yes, the audiophile checklist was superbly satisfied, but it was the emotional connection that was truly inspirational. It quickly reminded me of several recent reviews including components at several times the price.
Just slightly on the warm side and yet highly inviting, the F-05 yielded a rich sonic texture and harmonic purity in the mids and highs that greatly reminded me of the Pass Labs INT-60 ($9000). The F-05 had additional heft and impact in the low end and possibly more extension on top, but both integrated amps had a level of seduction and timbral purity that will make many vinyl and tube lovers sit up and take notice.
The D'Agostino Momentum integrated amplifier ($45,000) makes for another interesting comparison. Like the Momentum, the F-05 can deliver a very linear and consistent range of performance from top to bottom. Everything seems in sync. Nothing stands out or is overly emphasized. Music just seems to flow with an effortless and lifelike presence. Of course, the Momentum is in another league when it comes to detail and speed, but at almost five times the price you should not be surprised.
Soundstage extended well beyond the speakers when called for by the appropriate recordings—nothing contrived or manipulated. Images were locked in and three dimensional. Never did I sense that scale and dimension were out of synch or enhanced for additional drama. All in all, the F-05 demonstrated a very natural and realistic presentation of the recording venue and the recording engineer's intentions.
I was impressed by how well the F-05 matched up with both the Magico Q7 and Sonus Faber Stradivari speakers. I have mentioned it before, but these two speakers definitely register at two different data points on the musical verses analytical curve. This makes for a more interesting and insightful comparison when paired up with other components.
The rich tone of the F-05 was still a wonderful compliment to the full bodied Strads without adding too much chocolate on your favorite ice cream (if you know what I mean). The Q7's can be a difficult load despite the high efficiency ratings. Even at 120 watts at 8 ohms, the F-05 drove the Q7's without strain. There was plenty of control at all frequencies and outstanding weight and authority on the bottom octaves.
Phono Stage
The phono stage turned out to be an absolute delight that deserves some special mention along with an interesting back story. My own system failings did not allow me to audition the phono stage as originally planned, as my new moving coil phono cartridge proved to be a big time performer but also extremely frail during the setup process. It is currently on its way back to the manufacturer for repair and will remain unnamed until I post a full review.
One of my audio buddies came to the rescue and volunteered one of his many analog front ends which turned out to be a fantastic match. This included some classic vintage components: Thorens TD160 turntable, SME 3009 tonearm, and Shure V15VxMR phono cartridge (moving magnet).  I was skeptical as I have not listened to a moving magnet cartridge in many years, having been spoiled if not slightly mislead on the superior sound and performance of moving coils. Shame on me. This combo with the F-05 phono stage has me rethinking my priorities.
As stated earlier, the F-05 does support both moving coil (MC) and moving magnet (MM) phono cartridges. Impedance and gain are preset for each at 100kΩ and 75dB for moving coils and 47kΩ and 93dB for moving magnets. The Shure V15VxMR phono cartridge with its recommended impedance of 47kΩ was a great choice. Of course, additional flexibility would be nice to tweak the sound, but you can not ignore what this phono stage and this cartridge were able to produce together.
From what I can remember from back in the day, the V15 was known for it's excellent tracking and low noise output.  This also proved to be true in this setup, but it was the overall sound performance that really set back my ears and had me diving in. Gosh, I wish that I had more MC and MM options to play with and verify, but based on this experience, I suspect that the F-05 phono stage is an absolute steal.
Much like the output from all sources, sound was clean and open with a wonderful balance of sweet upper highs, creamy mids and serious bottom end wallop. Images floated across the soundstage in a nice three dimensional space. There was plenty of transient attack and dynamic headroom even on the most modest of recordings. My goodness, analog still kills!  How nice to have this as an integrated option at no extra cost.
DAC
Unfortunately, the optional OP-DAC1 D/A Converter Board ($1100) was not available at the time of this writing. We will follow-up with more information and insight as it becomes available. As mentioned earlier, PCM and DSD support is extensive so this option is well worth exploring. Per my review on the K-01X SACD/CD player, I can vouch that Esoteric knows well what they are doing when it comes to DACs. Stay tuned.
Music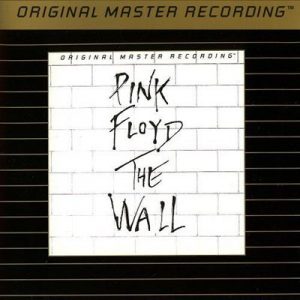 Pink Floyd, The Wall (CD)
The Wall continues to stand up over time as one of the most powerful Rock concept albums ever released. Issued in 1979 on Columbia Records in the USA and Harvest Records in the United Kingdom, it was the last studio album produced by the then line-up of Roger Waters on bass, David Gilmour on guitar, Richard Wright on keyboard and Nick Mason on drums. With sales of over 11 million units, it was also named as number 87 on the Rolling Stone list of "The 500 Greatest Albums of all Time".
My favorite reissue remains the Mobile Fidelity Gold UltraDisc double CD from 1990. The F-05 and K-01X combination reaches deeper into the bits and bytes than ever before. In my mind, "Run Like Hell" remains the most interesting cut on the album. From the opening Gilmour guitar solo that soars above the thunderous rhythm section, you get a "wall" of sound that will have you squirming in your seat. The blunt power and physically startling presence of Waters on bass and Mason on drum has never sounded as real and muscular. Even the sound effects seem more clearly defined and tangible. The frightful laughter, running footsteps, car tire screeches and final screams of horror will have you on edge. Classic stuff from my early years that has never sounded better.
Ella Fitzgerald, Ella Fitzgerald Sings the Cole Porter Song Book (LP)
Ella Fitzgerald is famous for her extensive series of Song Book albums.  This Cole Porter release in 1956 on the Verve label was the first and most popular. As producer, Norman Granz had the vision and confidence to position Ella as more than just a jazz singer. The Song Book series moved her to a larger contemporary audience with more established popular songs and arrangements. This three LP mono box set on the Analog Spark label hits all the hot buttons.
Midrange performance and female vocalists in particular are always an important gauge for success when evaluating any audio component. The F-05 phono section really delivers on this challenge. "Let's Do It, Let's Fall in Love" is my favorite track on this reissue. Ella's vocals are as smooth and buttery as the real thing. The air and ambiance that surrounds her voice is simply breathtaking. With the F-05 in charge, Ella's elegance and style really shine through and make that emotional connection that we all seek in our music. Even the simple guitar work by Barney Kessel and solo piano of Paul Smith seem to just pop out and float before your eyes. What a voice! What a recording!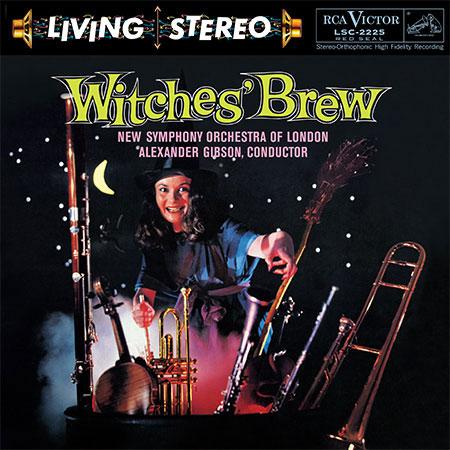 Witches Brew, Alexander Gibson & New Symphony Orchestra of London (SACD)
This audiophile favorite has been reissued many times. My preferred release on digital has always been the Classic Records CD, but now we have a new SACD contender from Analogue Productions. Another RCA Living Stereo masterpiece originally released in 1958, this set includes music by Arnold, Liszt, and Mussorgsky amongst several more. Many consider this just another sonic spectacular and a light humorous ride on the back of several classical standards, but I find the performances and sound extremely satisfying.
"Pictures at an Exhibition" (Gnomes) is a stunner. The F-05 again demonstrates the true potential of the very best recordings. This is a sonically massive interpretation with tremendous instrumental color and dynamic punch. The rich tapestry and authority of the string section will surprise you as digital rarely gets this right. Soundstage depth, width and height will fill your listening room to the farthest corners. Even if you are not a big fan of classical music, this is a great test for your system and might just expand your taste in music.
Final Thoughts
The Esoteric F-05 integrated amplifier is a true standout with exemplary performance well beyond its price point. Innovation, aesthetics, ergonomics—the F-05 has it all. It can deliver tremendous flexibility with a wide range of both analog and digital inputs and outputs. It ticks all the audiophile boxes and satisfies the most discerning listening needs. Most importantly, it affords that emotional connection and love for music that we all seek out as our highest priority. Esoteric has really hit the mark on this one. The F-05 has my highest recommendation!
Esoteric F-05 Integrated Amplifier
Retail: $10,000
INTEGRA
(Distributor for Americas)
(201) 818-9200