Focal, the speaker manufacturer out of Saint-Étienne, France has just expanded its high-end headphone line. The newest entry, Clear, will take its place between Utopia and Elear. Focal says the new headphone will be made available immediately at an MSRP of $1500. The price puts it closer to the Elear which retails for $1000, than the Utopia that runs for a hefty $4,000.
First Impressions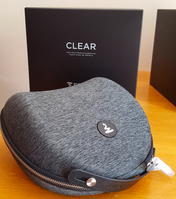 The box is a departure from either Elear or Utopia. Instead of the magnetized latch on a stiff cardboard box that is meant to be a sort-of display case for your headphones, Clear has a more standard box with a slip cover. Inside you'll find that Focal has been responsive to requests and critiques circulating among headphone enthusiasts online. This time, Focal included a nicely portable carrying case and a much nicer set of cables. Braided cotton wraps around 24 AWG copper cables for three separate headphone cables. On one end of Focal's new cables are two 3.5mm mono jacks that plug into each earcup. On the other are, either an XLR jack or a "full-size" 6.35mm jack, making up two 3m (10-foot) cables. Plus, you'll find one 1.2m (4-foot) cable with a stereo 3.5mm jack designed for portable use. Focal obviously heard criticism about the cables included with Elear and Utopia and responded.
No word on whether Elear and Utopia will get the new cables.

Build and Comfort
Clear looks almost like the Elear, but with lighter grey accents. The earcups feel like the same microfiber cushions as the other entries in this line, but Clear is light grey. The fit and feel is much the same as Elear. In fact the open-back earcups look almost identical to Elear and even contains the same 40mm (1.6-inch) M-type aluminum/magnesium driver. But they're made with a brighter hued aluminum housing.
Like all of Focal's high-end line, Clear is an example of headphone design elevated to art. It's a beauty to behold, although I can't say I preferred the brighter look of Clear over the darker Elear, they're both stunningly modern designs. Both are equally comfortable on your head too. With a solid aluminum earcup, yoke and headband extender, they look and feel incredibly solid and high quality to the touch. You'd think they would weigh heavy on your head but they actually feel quite light despite weighing in at .99lbs. At close to a full pound the headphones feel lighter due to almost no clamping force on your head. The open-back design lets Clear rest lightly with no need for sonic isolation.
In our current-era where ear-cushions are generally faux leather and black, it's a refreshing change to see light grey and soft microfiber rather than pleather. Although, I think I prefer the feel of leather over cloth touching my head in the short term. For long listening sessions, I'm sure the cloth will be more forgiving when it comes to absorbing and dissipating body heat and sweat. But that light hue of grey might have been a wrong choice, I can imagine it getting stained with circumaural head-crud within a year. But, you can always buy replacement ear-cushions. 
Sound Quality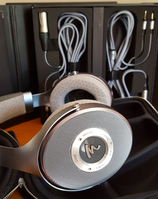 Without the Elear or Utopia to compare head-to-head it's difficult to nail down exactly what sets the sonic signature of Clear apart. All three are terrific sounding headphones with Utopia striking a fine balance between clear bass extension and semi-bright, detailed highs. Elear has been criticized for dipping a bit in the upper mid-range but still, a great headphone even at its $1K asking price.
First sound impressions were made listening to The Killer's new album. The vintage electro-sound from The Man, the second track on the Wonderful Wonderful album, was a great workout for mid-bass beat and timing with lots of detailed guitar strings and electronics in the upper mids and highs. Any roll off in the middle high suffered by the Elear seemed patched in the sonic signature of Clear. Although Clear portrays a noticeable bump in mid-bass giving rock music a chunky consistency. The highs are spectacularly detailed as with all of Focal's headphones in this line.

Switching gears to Miles Davis and an immaculate, high-resolution remaster of the 1957 recording 'Round Midnight, the relaxed mix of intimate instrumentation exposed fine levels of detail and imaging. The openness of all of Focal's open-back headphones has been exemplary, but sonic imaging of the bass, drum, and trumpet is phenomenal on Clear. The tonal quality of Clear compared to the similarly priced Audeze LCD-3 shows Clear has more of a clinical approach, less of the warmth in the upper-mids that I've come to love in Audeze, but there is something about the accuracy and detail of Clear that I found myself really getting used to.
Conclusion
It's difficult to find fault in the acoustic signature of Clear on any level. That said, without hearing a direct comparison, it's difficult to discern exactly what problems Clear was meant to solve with Focal's upper-end headphone line, if not simply the inclusion of more peripherals such as better cables and a hard-shell carrying case. Overall, my impressions of Clear is that it's more sonically alike to Elear than it is different – both are a fantastic option. But that begs the question – is Clear worth $500 more?
If not for the cables and carrying case, I have to conclude no. Even with Elear's overly long, rubberized cable, I'd live the rest of my headphone listening days with Elear as an indoor-only headphone that I plug into a standard quarter-inch headphone jack (with no XLR option) and I'd be a happy with its punchy, detailed sound. Both Elear and Clear bring a healthy dose of emersion and excitement to whatever recording you throw at it. In the end, it's up to you to decide which of these headphones in the Focal line are right for you. But, I suppose that's not such a bad problem to have as an Audioholic.

gene posts on October 06, 2017 19:17
Focal, the high-end speaker manufacturer out of Saint-Étienne, France has expanded its high-end headphone line with a new entrant called Clear. The new headphones will retail at $1,500 putting it just above the price of Focal's $1,000 Elear and well below the $4,000 Utopia. With such a close product to Elear – is it possible that perhaps Clear stands to one day replace Elear? We'll examine what you get for the extra $500 over the price of Elear.
Read: Focal Clear Over-Ear Headphone Review