JVC DLA-X570R Introduction

Let's face it, there's just nothing like watching a movie on a big screen. Sure, today's OLED and LED 4K/UHD displays are getting bigger and look beautiful. But, if you really want the big picture, there's no substitute for a projector and screen.
While 4K/UHD displays have fallen to prices within reach of mortal men, native 4K/UHD projectors remain well out of reach for the vast majority, costing tens of thousands of dollars.
To that end, a select few companies, like JVC, have developed less expensive projectors that use native 1080p chips but use pixel shifting technology (I'll get to that later) to produce a "4K-enhanced" image. Even though they have on-board 1080p chips, these projectors support the hallmarks of next-generation imaging such as DCI-P3 and BT.2020 expanded color gamut and High Dynamic Range (HDR).
All the specs you'd want in a 4K-capable projector
One such projector in JVC's arsenal is the 4K e-Shift4 DLA-X570R projector, which retails for $3,999. While it's by no means cheap, it represents the entry point to JVC's e-Shift4 projector lineup. By all accounts, JVC's DLA-X570R can serve as the heart of any high-end home theater. You won't mistake this 34-pound projector for some puny presentation projector. It's nearly 18-inches long, 18.5-inches wide, and 7-inches tall.
Here at Audioholics, we've constantly said that the real benefit of 4K/UHD isn't in the resolution. It's the increased color gamut and high dynamic range.
It accepts native 4K 60P 36-bit (4:4:4) content at a full 18Gbps. It features a 40:000:1 native contrast ratio and a 400,000:1 dynamic contrast ratio. You'll be hard-pressed to find a better contrast ratio and real-world performance at this price point.
Traditional 1080p projectors support what's called the Rec. 709 color gamut. This is the color gamut you find on Blu-rays and HD broadcasts. Unfortunately, that color gamut is limited. It doesn't show anywhere near the colors the human eye can perceive nor can it even come close to the DCI-P3 color gamut used in commercial theaters.
As the entry level model, the X570R, is capable of covering the full Rec. 709 color gamut. That means you'll be fine with traditional HD sources, but you'll fall short of the expanded colors of the DCI-P3 and the even greater BT.2020 color gamut that has been adopted as the standard for next generation 4K/UHD images. You'll have the move up JVC's projector line to the X770R and X970R for that.
Brightness
The JVC's NSH 265W lamp is capable of pumping out 1,800 lumens to a screen size between 60 – 200 inches diagonally.  JVC claims that you'll be able to get about 4,500 hours from the lamp in low power mode and 3,500 hours in high.  When you need to replace the lamp, it will set you back $599 (MSRP), though I found some street prices under $500.
As a side note, using low brightness mode in a projector will increase its lamp life and is generally quieter (less fan speed needed to cool the bulb) but it produces a dimmer image. Whether you chose low (called "eco mode" on some projectors) or high brightness mode with traditional HD sources typically depends on your projector screen's gain (or capability to reflect projected light) and your ability to control light in your room. Remember that ambient room light will wash out a projected image.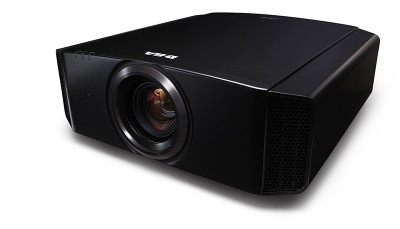 Front and side view of the JVC DLA-X570R
You should typically use the high brightness setting in scenarios where you need higher brightness like 4K/UHD and HDR sources; using a lower-gain screen, or you don't have great light control in your room.  There's typically some color shifting that happens between low and high brightness mode, so if you're calibrating your projector, you'll want to do a calibration for each mode.  Thankfully, JVC allows you to save individual calibration settings. You could, therefore, do a calibration with the projector in low and again in high and call them up separately if needed.
In low brightness mode, JVC says that the projector's fan noise is about 21dB.  To put that in practical terms, in my testing fan noise in low brightness was close to inaudible. Only when I switched to high brightness did the projector get noticeably louder than my room's typical noise floor.  Using an SPL, I measured a 6db difference between the two modes at about six-inches from the projector. Of course, the further away you go the less dramatic the difference. I noted about a 2-3dB SPL difference between low and high brightness mode at my seating position approximately 9.5 feet away.
Features
The motorized lens has a 2X zoom and a motorized focus of f=21.4 to 42.8mm/F3.2-F4. To aid with different installation scenarios, the X570R has a motorized lens shift of +/- 80% vertical and +/- 34% horizontal. In other words, there's no need to tilt the projector (which you should never do with the JVC) like you might do with presentation projectors. You can put the projector on a level surface and still project the image above or below the projector's horizon. The JVC's lens features worked perfectly in my ceiling-oriented setup. I didn't find any limitations. Should you need it, you also have the ability to apply some keystone correction. Keystone correction gives you the ability to adjust the geometry of an image in case you have to put the projector at an angle from center, which tends to skew the image.

JVC's marketing images give you an idea of the differences you'll see between an SDR (standard dynamic range) and HDR (high dynamic range) image with expanded color gamut. 

While these images are simulated, there's no question that HDR and expanded color are the real deal.

The JVC X570R has a few upgraded options over its 2016 predecessor, the X550R. One such feature is a low latency mode for gaming. It works great! I enjoyed connecting my Xbox One to the X570R.  You haven't played Star Wars Battlefront or Lego Dimensions until you've experienced them on a 119-inch screen in full 7.1 surround sound. In a word: awesome. I noted simply excellent response time with the Xbox One's controllers. That makes the JVC a real winner for those of you who would love to fire up a gaming console in addition to movies on the big screen.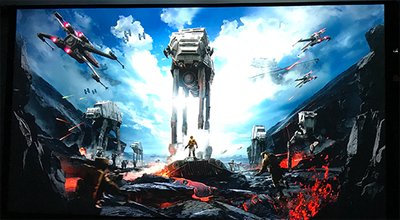 Star Wars Battlefront on Xbox One and any game for that matter was simply spectacular through the JVC.

The new low latency mode for gaming made a noticeable difference.
Unlike some of the competition at this price point, the JVC doesn't have a motorized lens cover. There's a removable plastic cover to protect the lens that you need to take off or place back. It's a bit of a downer, but clearly not a deal breaker.
The JVC's rear panel has two HDMI 2.0b and HDCP 2.2-compliant inputs, which means you're getting the most up-to-date HDMI standard available on the market today.
Unlike its far more expensive siblings, the X770R and X970R, the X570R lacks THX certification and a THX mode. It also and falls short of those models' superior color filters, expanded color gamut support, dynamic range, and optics.
In case you're wondering, projectors or displays that are THX certified conform to certain standards set by THX. They go through a battery of hundreds of tests for color and image quality. In my experience, projectors with a THX mode will come as close to a professional calibration as possible out of the box. It's a feature I'd love to see in the X570R's successor.
The JVC X570R supports 3D with active shutter glasses. It's loaded with all the 3D features you can hope for in a projector. 3D is limited to 1080p. UltraHD Blu-ray and 4K/UHD programming do not have a 3D spec, in case you're wondering. 3D is on its last leg and most likely won't have a life beyond existing 1080p content. If 3D is important to you and you have 3D titles, in your collection then you'll need to purchase an RF 3D emitter (part number PK-EM2G) to the X570R, which costs about $100. It's not included in the box. You'll also need to purchase compatible active shutter RF 3D glasses. JVC didn't provide any of the 3D options with the review unit, so I didn't have the opportunity to test any 3D Blu-ray content.
The JVC's rear panel has two HDMI 2.0b and HDCP 2.2-compliant inputs, which means you're getting the most up-to-date HDMI standard available on the market today. Previous generation HDMI 2.0a inputs supported HDR10 (ST .2084), which is the high dynamic range grading found on UltraHD Blu-rays. However, the presence of HDMI 2.0b is critical and I'll explain why.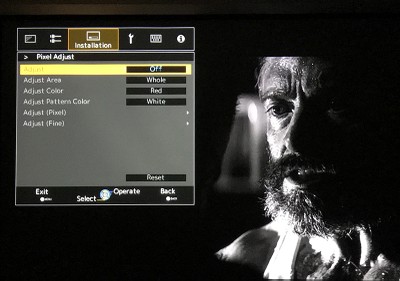 You can fine-tune the JVC's picture controls—including specifying which area of the screen to adjust.

Hybrid Log Gamma (HLG) HDR is a high dynamic range technology developed by the BBC and Japanese public broadcaster NHK. HLG HDR is projected to be supported by future 4K/UltraHD television programming because it is backwards compatible with standard definition sources. The caveat is that HLG HDR requires HDMI 2.0b. The DLA-X570R is one of the few projectors at this price point that supports both HDR10 and HLG HDR, and it's a really big deal that gives you some future-proofing.
I did ask JVC if they would be supporting the newly announced HDR10+ standard with dynamic metadata via a firmware upgrade. There was nothing definitive that they could tell me at this time. There's no standard for Dolby Vision HDR on projectors (in case you're wondering).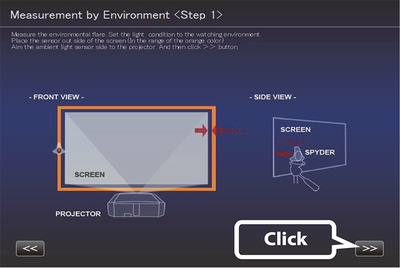 JVC's PC-based Projector Calibration Software will take ambient light readings in your room and adjust the projector's settings accordingly.

Whether you're watching 1080p programming, popping in a 4K/UltraHD Blu-ray, or streaming 4K HDR content, the X570R will automatically select the proper setting and gamma. In fact, auto HDR picture preset is one of the new features in this model. In my testing, the JVC  automatically selected the proper setting for a given source.  Regular high-def programming got an SDR setting, 4K/UHD Blu-rays got HDR10. Slick and seamless.
JVC's E-Shift4 and other technologies
Remember, the JVC DLA-X570R is technically a 1080p projector. However, thanks to JVC's pixel-shifting technology, the DLA-X570R is capable of pumping out a 4K image. JVC first introduced their e-shift pixel shifting technology in 2013. The DLA-X570R contains JVC's fourth generation e-shift technology.
Let's explain how the X570R accomplishes this 4K/UHD feat from a 1080p projector. The JVC breaks down a native 4K/UHD 3840 x 2160 signal into two 1920 x 1080 images. The JVC then projects the first 1920 x 1080 image and a fraction of a second later projects the second 1920 x 1080 image but shifts the second image diagonally by a half pixel.  It then repeats this process, constantly alternating the two portions of the 4K/UHD signal. Because this happens so fast, our visual perception creates a composite 3840 x 2160 image whose resolution is virtually indistinguishable from a true 4K projector. In fact, if you had a native 4K projector side-by-side with the X570R you'd be hard-pressed to tell the difference. It's that good. The effect, if you think about it, is a bit similar to how traditional film tricked our visual perception to assemble individual frames together to create the illusion of motion.

How JVC's e-Shift4 technology works to create a 4K/UHD image from 1080p chips.

In my tests across a variety of UltraHD Blu-rays on both a 90-inch and 119-inch screen, I found JVC's E-Shift4 to be absolutely stunning. It's not a gimmick; it works wonders.
There are a few other technologies that JVC includes to enhance your viewing experience. Most notably, JVC includes MPC (Multi Pixel Control) and CMD (Clear Motion Drive) which is the company's 120Hz frame interpolation. MPC is a new image processing algorithm that JVC developed that the company says creates a natural impression that areas in focus are sharper and areas not in focus are softer. The company says it creates a greater sense of depth with 4K/UHD sources. It's an interesting feature and you can adjust its intensity or leave it off.  I used the default settings, which I found to be just right.

JVC's MPC enhancement technology

JVC says that CMD reduces image lag and improves dynamic resolution.  JVC told me that CMD optimizes the drive of the D-ILA device so it turns on and off at 120 Hz to give you a sharp image without any bleeding or trailing images.  The foreground and background will be nice and sharp as the object moves across the screen. Typically, the drawback with such frame interpolation technologies is that they produce the dreaded "soap opera effect" which makes a movie start to look visually like a TV soap opera (hence the name) or like it was shot on a home video camera. I can't stand the soap opera effect created by many frame interpolation engines.
However, on the JVC, keeping that setting on low benefited every single source I viewed.  In fact, with very few exceptions, this blur-reduction setting didn't call attention to itself. I asked JVC how they were able to do this so effectively and they told me that they do a frame interpolation by scanning each frame three times and make up a frame that is a combination of the frame before and the frame after.  When CMD is turned on low, the projector provides the following sequence of frames A-AB-B-BC-C. I liked it so much that I kept it on for most of my viewing.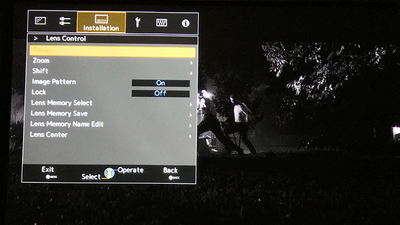 There are ample lens control and lens memory options available on the JVC X570R.

Now some users have reported online that enabling CMD can produce vertical banding on some material. Vertical banding is an issue you'll sometimes see with LCD projectors (DLP-based projectors have their own issue called rainbows). When vertical banding occurs, you start to get subtle, but noticeable, vertical bars in your image. The vertical bars can sometimes be as wide as 1-inch. Vertical banding can subtle all the way up to nasty and really distracting. As a general rule with LCD projectors, vertical banding and its severity can sometimes differ with different units of the same model (and can be maddening).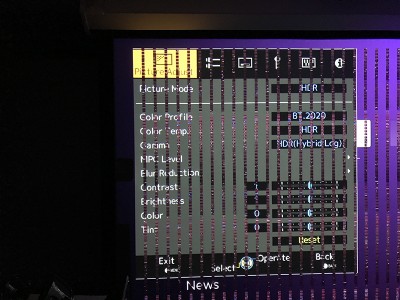 During my entire review period, I experienced vertical banding only on two occasions. Both happened when I brought up the JVC's menu and it was nasty. This is what it looked like. 

Both times, the condition went away when I closed the menu. I never experienced it during any movie content.
I reached out to JVC to ask about these reports.  JVC told me that if vertical banding does occur it can be minimized by adjusting levels in noise reduction. I saw that some users claimed anecdotal evidence that the severity of the banding varied depending on the 4K/UHD player. In my testing with my source UltraHD Blu-rays and Oppo UDP-203, I did not readily notice any vertical banding during actual programming. I saw it on two occasions only and both were when I engaged the menu.
Enabling CMD did have another impact that I experienced. It tended to increase the X570R's lag time to switch resolutions when handshaking HDMI sources.
Enabling CMD did have another impact that I experienced. It tended to increase the X570R's lag time to switch resolutions when handshaking HDMI sources. The JVC isn't a speed demon to begin with, so this made the lag time even worse. This was most painful with switching screen resolutions on the Roku. It took so long for the JVC to switch resolutions that upon initial setup I couldn't see the Roku's picture settings dialog box to confirm them.  I was stuck at 720p in an unending Ground Hog Day loop.  Turning off CMD will improve the JVC's X570R speed, so keep that in mind.
All in all, I was extremely pleased by the number of options in JVC's control panel. Enthusiasts and custom installers will have just about everything they need to dial the X570R into pretty much any installation.
shadyJ posts on August 24, 2017 02:50

Looks like a nice offering. The new Optoma 4k projectors might look awfully tempting, but my last Optoma was a reliability nightmare. I would take this JVC 4K over Optoma's les expensive native 4K support anyday, just to avoid dealing with Optoma.
gene posts on August 24, 2017 00:25
While native 4K/UHD projectors remain out of reach for mortal men, JVC is leading a crop of projectors featuring pixel shifting technology that will generate a stunning 4K/UHD image from native 1080p projectors. The DLA-X570R offers Full compatibility with native 4K/UHD sources, dual HDMI 2.0b inputs at full 18Gbps bandwidth, HDR 10 and HLG HDR support plus fully automated calibration capabilities with JVC's free Projector Calibration Software. Couple that with lens memory features and extensive options to fine tune the JVC to any installation scenario and there isn't much more you could ask for in at a $4,000 price-point.
Read: JVC DLA-X570R 4K e-Shift4 Projector Review
21988