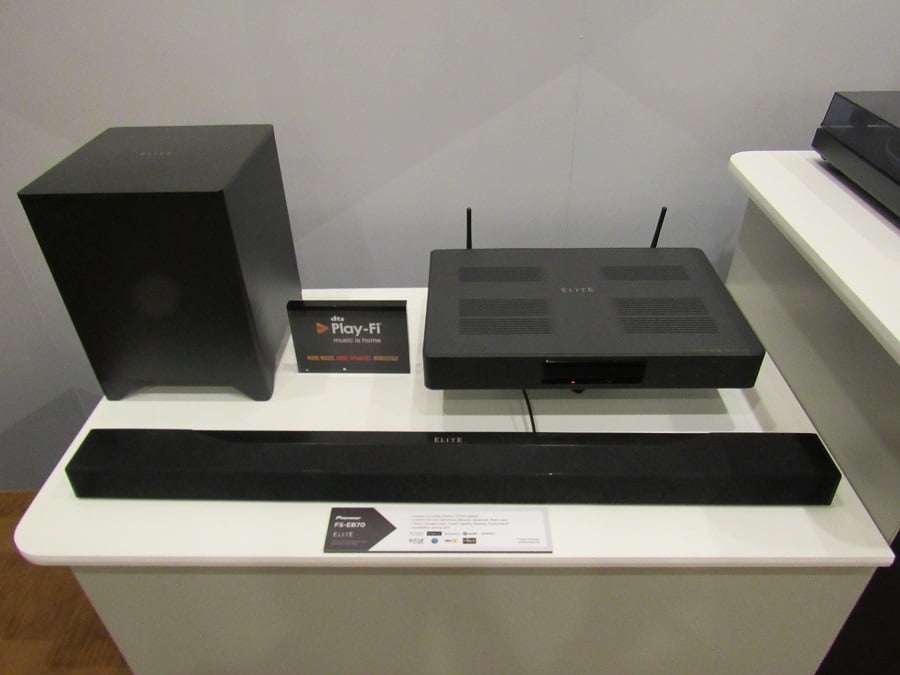 Supplying surround sound in a slim design is Pioneer Home Entertainment
U.S.A.'s new Elite® FS-EB70 Network Sound Bar System,
launching today for a $1,000 MAP (US) and $1,499 MAP (CAD), and on display in
The Venetian Meeting Rooms Level Two, Bassano Room #2601.
The ultra-slim sound bar provides
a 3.1.2 channel immersive audio experience without having to place speakers
above or behind you thanks to Dolby Atmos® and DTS:X™
integration, along with custom top-mounted drivers that attempts to bounce sound off the
ceiling.  Adding power to the experience are six-channel Class D amps with
a dedicated power supply that power wide-dispersal speakers with angled height-channel
speakers enclosed at each end of the sound bar. 
Pioneer FS-EB70 Soundbar, Sub, and Amplifier YouTube Video Overview

A powerful yet compact
wireless subwoofer delivers deep in-movie Low Frequency Effects (LFE) for added depth and impact. 
Here are some of the features you can expect from the Pioneer FS-EB70 Soundbar System:
Surround Sound
Upward firing speakers
conform to the Dolby Atmos standard for overhead sound reproduction of object
and channel based content.  In-ceiling speakers or additional modules are
not required.
A Dolby Surround upmixer,
which decodes and directs sounds to all of the speakers in the sound bar
including up-firing capabilities to provide a higher sense of immersion from
all channel based content.
Dolby Audio™
includes new Surround Enhancer technology, a mode that wraps sound around the
listening position by means of virtual rear speaker creation.
DTS Neural:X™
mixes standard 5.1 sound for convincing replication of object-audio soundtracks
by retrieving spatial cues from the soundtrack.
Dialog is mixed as a separate
element in DTS:X™ so dialog volume can be raised or lowered
independently to other sound elements.
Multi-Room & Streaming
Multi-room wireless audio
functionality and streaming capabilities include FireConnect™*1, DTS
Play-Fi® technology*2, Chromecast built-in*2,
AirPlay® as well as Bluetooth® wireless
connectivity*3 and dual-band 5 GHz/2.4 GHz Wi-Fi®.
Supports all leading
subscription services Spotify®*4, Pandora®, TIDAL,
DEEZER, and
TuneIn.
Easy Calibration
Premium MCACC*5
technology calibrates phase, reverb, frequency, and output for optimal sound at
the listening position by ensuring that directional sounds of all frequencies
arrive simultaneously so the listener is presented with a studio-faithful
object audio image.  The built-in Reflex Optimizer precisely aligns the height-channel
phase.
Hi-Res Connections
Four 4K/60p Ultra HD-ready HDMI®
inputs connect various media players including those capable of High Dynamic
Range*6 and BT.2020*7 video, and routes signals to a
compatible TV via a single HDMI cable.
HDMI output features Audio Return Channel
(ARC) with CEC/CEC Multilink. Your home entertainment system can be configured
to switch on and off automatically with the TV.
 Format compatibility includes Hi-Res
Audioand 2.8 MHz/5.6 MHz DSD network audio.
Analog RCA or optical digital inputs are
perfect for legacy gear and a USB input supports audio playback of a variety of
music formats, including hi-res audio stored on USB memory devices. 
Initial Impressions

The new Pioneer FS-EB70 was one of the most
enveloping soundbar of the bunch that we've heard back at CEDIA 2016. We had a private listening test in a darkened acoustically controlled
room designed to premiere several of Pioneers products but weren't told which
one we were listening to. When the lights came on we were surprised that the
only source we listened to was the soundbar, separate amplifier, and 8" sub.  Now that the product is officially launched, you can expect a formal review to come from us this year.  Stay tuned….
gene posts on January 06, 2017 00:08
Supplying surround sound in a slim design is Pioneer's Elite® FS-EB70 Network Sound Bar System which includes the 3.1.2 Atmos soundbar, amplifier module and wireless 8″ subwoofer all for $1,000. This was one of the most impressive soundbar systems we've heard last year at CEDIA so we are excited that its finally a released product so we can do a formal review.
Read: Pioneer Elite FS-EB70 Network Atmos Sound Bar System Preview