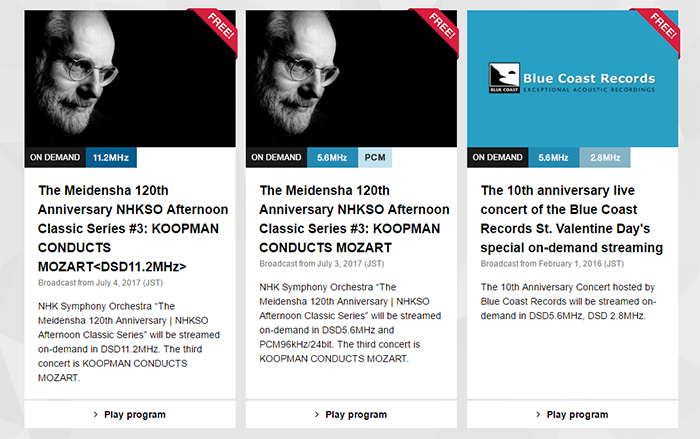 PrimeSeat Presents the NHK Orchestra in DSD 11.2 MHz (Photo: PrimeSeat Software)
While many were celebrating Independence Day this 4th of July, a different celebration was happening in Japan and on the Internet. July 4, 2017 was the launch date of 11.2MHz DSD (also known as Quad DSD or DSD 256) Streaming Audio from PrimeSeat. 
What Is PrimeSeat and How Does It Work?
PrimeSeat is a high-resolution streaming audio service from the Internet Initiative Japan (IIJ). It uses audio technology developed by Korg, Sony and Saidera Mastering to capture and stream DSD and PCM audio over the Internet.
Unlike other streaming services and technologies that take high resolution FLAC or PCM music files and then reduce them in size using a variety of compression, encoding, decoding and folding techniques to fit in a "CD Quality" or smaller sized file from the original studio recording, PrimeSeat streams audio in full high resolution DSD and PCM audio.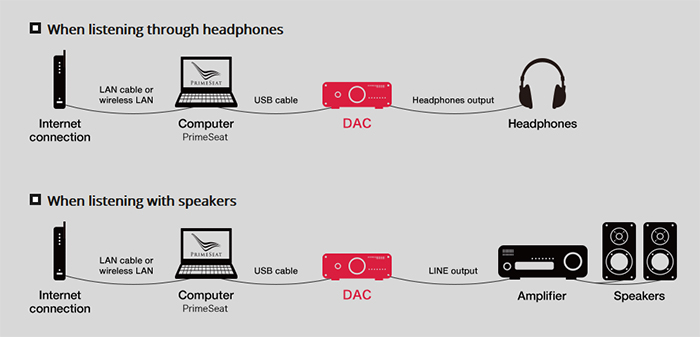 How PrimeSeat: Works (Photo: Brian Moura)
Listeners simply download and install the Free PrimeSeat software for Windows or Mac computers, connect to the Internet, connect their computer to a Digital to Analog Converter (DAC) and then they can enjoy some very high-quality streaming DSD and PCM music.
A Little History
PrimeSeat was launched in Japan in December 2015. It offered listeners streaming Stereo audio in Single Rate Direct Stream Digital (DSD) 2.8MHz, Double Rate Direct Stream Digital 5.6MHz and 24-bit/96kHz PCM. 
The service's programming includes both live concerts and on-demand streaming of artists performing a wide range of Classical, Jazz and Acoustic music. This has included concerts by the Berlin Philharmonic Orchestra, the NHK Symphony Orchestra and the Royal Concertgebouw Orchestra. Additional music has been broadcast featuring performances by Ethnic Minority, Marek Szpakiewicz, Nouon and Azusa Yamada and Pearl Alexander that were produced by Seigen Ono of Saidera Mastering which have later been made available as DSD Music Downloads from sites including eOnkyo Music Japan (available to listeners in Japan) and NativeDSD Music (available to listeners worldwide).
In 2016, PrimeSeat made a splash in the U.S. market by partnering with Cookie Marenco's Blue Coast Music to offer two concerts in stereo DSD 5.6MHz. The first, recorded at The Fenix music club in San Rafael, California with artists Keith Greeninger and Alex de Grassi, was made available on-demand in stereo DSD 5.6MHz.
Jenna Mammina and Alex de Grassi at Skywalker Studios (Photo: David Pappas)

This was followed by a concert with singer Jenna Mammina and guitarist Alex de Grassi broadcast live in stereo DSD 5.6MHz from the famed Skywalker Studio in Marin County, California using the PrimeSeat technology and a pair of Korg's MR-2000S DSD Recorders. 
That concert was later released as a DSD Music Download from Blue Coast Music titled Jenna & Alex: Live In The Studio using a recording from that session made with the Merging Technologies HAPI Analog to Digital Converter in DSD 11.2MHz.  
I was honored to cover the live Stereo DSD 5.6MHz concert and streaming for Positive Feedback (see linked article below for more details).
Internet Setup for PrimeSeat
PrimeSeat recommends an Internet connection of 12mbps or higher to play back their recordings and live concerts at stereo 5.6MHz DSD and 24Mbps or higher to play back their stereo 11.2MHz programs. If you have a slower Internet connection, you can try their 2.8 MHz DSD and 24-bit/96 kHz PCM programs.
While this may sound daunting, I was pleased to find that with my standard "medium speed, Performance Pro" Internet service from Comcast, all the DSD and PCM programs offered by PrimeSeat work fine. It was not necessary to upgrade to Comcast's high-speed Internet service to enjoy PrimeSeat's DSD recordings and streaming broadcasts.
Updating PrimeSeat for DSD 11.2 MHz Streaming
With the news that PrimeSeat is now offering stereo DSD 11.2 MHz streaming, it was time to update my audio setup here and take it for a spin.
The process is a simple one. Download and install the latest version of the Free Prime Seat software (now at version 1.62) on your computer running the Windows or Mac operating system. Next, select the ASIO driver of your DAC or Player with DSD 256 in the Audio Settings menu of PrimeSeat 1.62. Select a performance, a track, and it's time to listen.
Merging Technologies NADAC Player 8
First up was a test in my music and home theater room. Here the setup includes a Lenovo Yoga Pro 3, Intel Core M based convertible laptop with 8GB RAM, a Merging Technologies 8-channel NADAC Player 8 Digital to Analog Converter with DSD 256 Stereo and Surround Sound playback.  The music room's Internet connection is provided by Comcast connected to the music room using a Netgear Powerline adapter.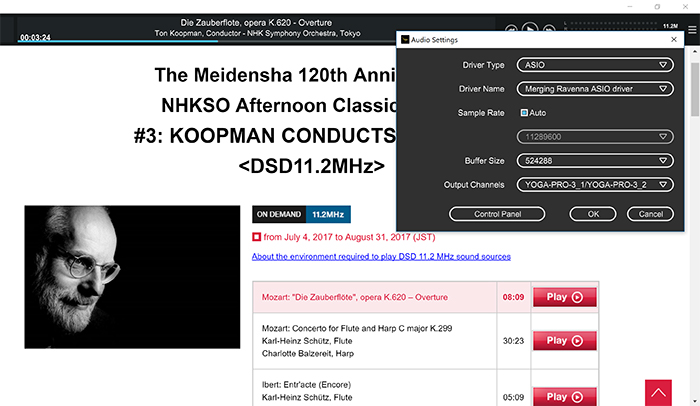 NADAC Player 8 Audio Settings for DSD 11.2 MHz Stereo (Photo: Brian Moura)
The new PrimeSeat 1.62 software was installed on the Yoga Pro 3 and the PrimeSeat software was set to the Merging Technologies ASIO driver under Audio Settings. I navigated over to the program selections and chose a concert recorded and available in DSD 11.2MHz, 5.6MHz, 2.8MHz, and PCM 96kHz stereo. 
The 90-minute concert was Koopman Conducts Mozart with Ton Koopman conducting the NHK Symphony Orchestra Tokyo with Karl-Heinz Schutz (Flute) and Charlotte Balzereit (Harp). It was recorded by PrimeSeat on May 25, 2017 at Muza Kawasaki Symphony Hall and was available Free On Demand from PrimeSeat during the period of July 4, 2017 to August 31, 2017.
Stereo DSD 11.2 MHz Streaming Audio
I selected the first track of the concert and sat down to give it a listen. As I had experienced in the past with PrimeSeat, what I listened to was Stereo DSD streamed over the Internet. But this time it was DSD 11.2MHz stereo (aka Quad DSD or DSD 256 Stereo) music. 
It was an excellent recording and highlighted the orchestra and musicians performing Mozart. The streaming audio offered fine imaging, detail and perspective of the symphony hall. It was a true delight to sit back and enjoy this performance in very high resolution DSD sonics with the top flight DSD 256 NADAC Player 8.  Now this is what streaming audio can and should be!
iFi Audio's iDSD Micro BL
Next, it was time to try a more affordable and compact music system in my home office.  Here I'm using an i7 based Cyberpower Desktop PC, 16GB RAM with iFi Audio's excellent iDSD Micro BL portable DSD 256 DAC (Retail: $549), and the HiFiMan HE-1000 headphones with Lazuli headphone cables from Dana Cables for the HE-1000 headphones. Again, the Internet connection is provided by Comcast connected to the home office using a Netgear Powerline adapter.
I configured the PrimeSeat software to the iFi Audio ASIO driver and selected the same performance by the NHK Orchestra.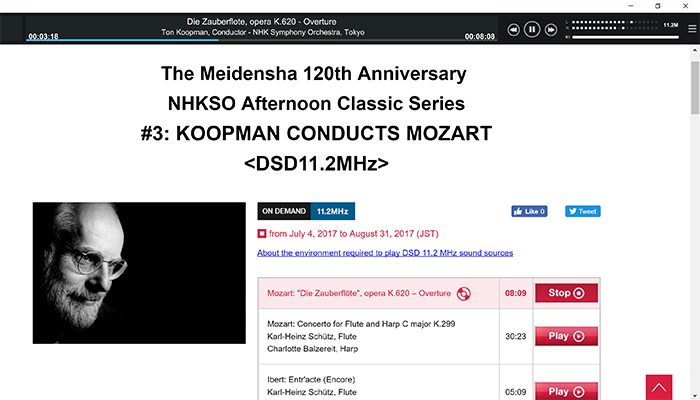 iFi Audio's iDSD Micro BL Playing Stereo DSD 256 from PrimeSeat (Photo: Brian Moura)
Once again, I was treated to some fine Stereo DSD 256 sonics from PrimeSeat's servers in Japan over the Internet to my home office. This is a testament to the quality of the iFi Audio iDSD Micro BL, PrimeSeat, and the components in the home office system. A beautiful classical music performance at the highest fidelity available in streaming audio. It was a treat to sit back and enjoy the concert.
Next Up: A Live DSD 11.2 MHz Concert with the Berlin Philharmonic
Next up from PrimeSeat will be the world's first live concert streamed in DSD 11.2MHz! It will also be available in 5.6MHz DSD, and 24-bit/96kHz PCM. 
The concert will feature the Berlin Philharmonic Orchestra with conductor Marek Yanowski performing "Bruckner: Symphony No. 4 Romantic" and "Pfitzner: Three Preludes from Palestrina". It will broadcast live from Berlin Philharmonic Hall in Germany on Saturday, September 16, 2017 at 1:50am.
Classical music listeners will want to mark their calendars to enjoy this special event.  In the meantime, you can download and install PrimeSeat on your music system and enjoy their current on-demand concerts and performances in 5.6MHz DSD, 2.8MHz DSD, and 24-bit/96kHz PCM
An Impressive Achievement
I have to say that PrimeSeat has once again met and exceeded expectations. Not only have they brought full Stereo streaming in DSD 5.6MHz, DSD 2.8MHz, and 24-bit/96kHz PCM quality but they have now extended this to streaming stereo music in DSD 11.2MHz. The results are quite impressive and something that everyone with an Internet connection and a DSD-capable DAC should try. 
In the future, there will undoubtedly be further tweaks and enhancements to the Free PrimeSeat Streaming software. As to what comes after that, one can only imagine. Is DSD 2.8MHz Surround Sound on the PrimeSeat road map? Or does PrimeSeat have some other goals in mind? 
I can't say that I'm privy to their plans. But having watched PrimeSeat continue to grow and evolve since late 2015, I'm keeping an eye on them to see what the next step is. In the meantime, it is time to sit back and enjoy some more fine music in high resolution DSD and PCM. Bravo, PrimeSeat!
PrimeSeat
PrimeSeat Announces World's First Live Concert in 11.2 MHz DSD Stereo
https://primeseat.net/ja/programs/live/Berliner_Philharmonisches_Orchester_Live_Janowski_112.html
Jenna & Alex: Live Concert Broadcast in DSD
http://positive-feedback.com/audio-discourse/jenna-alex-first-u-s-live-dsd-broadcast
Jenna & Alex: Live In The Studio (DSD Music Downloads)
http://bluecoastrecords.downloadsnow.net/live-in-the-studio
Blue Coast Music
https://store.bluecoastmusic.com
Saidera Mastering – PrimeSeat DSD Downloads – eOnkyo Music Japan & NativeDSD
http://www.e-onkyo.com/search/search.aspx?label=Saidera+Mastering+%26+Live+Recording
https://sdmliverec.nativedsd.com
https://saiderarecords.nativedsd.com