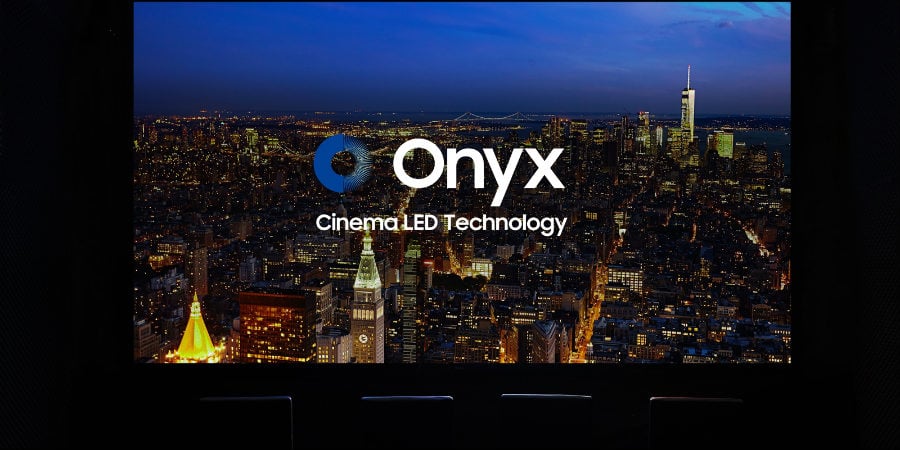 The physical apparatus of movie-theater audio has changed dramatically over the years. From mono, to stereo, to multichannel surround, to today's object-based audio systems, each technological advancement has required theaters to retrofit or even rebuild in order to accommodate more speakers and an ever-increasing amount of hardware. Throughout this audio evolution, the visual side of things has remained largely unchanged. At the front of the theater, a large screen hangs passively on the wall. At the rear, a projector sits above and behind the audience, throwing images at the screen. Color film, digital photography, and digital projection have represented major developments in the way movies are made and shown, but the physical setup in cinemas has never really deviated from this basic configuration. Now, if Samsung has its way, that may be about to change.
At the recent CinemaCon in Las Vegas, attendees of the official convention of The National Association of Theatre Owners were introduced to Onyx, Samsung's new sub-brand under which the electronics giant will market its Cinema LED screen technology. These new screens, which will be available in widths ranging from 16.4 to 33.8 feet, are essentially enormous 4K (4,096 x 2,160) HDTV screens. These self-contained displays eliminate the need for a projector, and are capable of peak brightness levels nearly 10 times greater than standard projector technologies can deliver. Onyx screens have a nearly infinite contrast ratio and specialized low-tone grayscale settings, allowing them to produce deeper blacks, more pristine whites, and more vibrant colors than any projector, according to Samsung.
The first Onyx theater in the United States was recently installed in the Pacific Winnetka theater, just north of Los Angeles. Like Dolby Cinema and IMAX theaters, the Samsung Onyx Theater is a complete audio and video package, combining the Cinema LED screen with a state-of-the-art surround sound installation from Harman International. Harman's proprietary sound system claims to increase the size of the audio "sweet spot," affording more movie-goers an optimized multi-sensory experience. The initial wave of Onyx theater debuts has included locations in South Korea, China, Thailand, Malaysia, Austria, Switzerland, and Mexico, with more locations coming soon.
Seog-gi Kim, Executive Vice President of Visual Display Business at Samsung Electronics, addressed CinemaCon attendees after demonstrating the capabilities of the Onyx screen. "By aligning brilliant, uniform color presentation with LED picture quality and crystal-clear audio, the Samsung Onyx screen invites movie enthusiasts into the most immersive and memorable viewing arena available, and repositions the theater as an entertainment haven," he said. "We are thrilled to deliver a new and exciting theater experience."
Will Samsung's new Onyx screens become a new standard, making traditional front projection systems obsolete?
Share your thoughts in the related forum thread below.   
gene posts on May 28, 2018 01:25
Samsung's new Onyx brand aims to redefine the cinema experience with unprecedented brightness and high dynamic range with screen widths ranging from 16.4 to 33.8 feet. The Onyx LED Cinema Screen dazzles viewers and makes the projection room obsolete. Is this the beginning of the end for front-projection movie theaters and how will this also impact the home cinema?
24389
Read: Samsung ONYX LED Cinema Screen