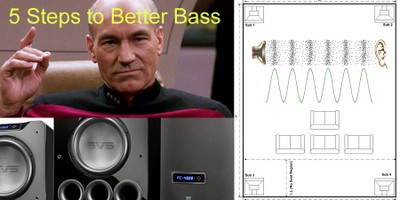 5 Steps to Better Bass
This 5-Step supplemental article assumes you already have a home theater system and simply want to improve the bass response for better impact and accuracy. This article also assumes you've properly set up the bass management in your AV receiver or processor and made all of the necessary connections to your speakers and subwoofers.
If you're running only one subwoofer, it may be time to upgrade and get a second matching sub. Dual subwoofers are ALWAYS better than a single subwoofer for distributing uniform bass across a wider listening area and also coupling very low frequencies for greater depth and dynamic range.
…
Read the full article