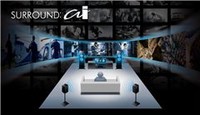 It's been almost a year to the day that Yamaha released their RX-A 70 series of receivers to upgrade the video features of their RX-A 60 series that came out a year before. This year Yamaha has released their new and improved RX-A80 series of receivers to great acclaim. The major change coming with the addition of Surround Artificial Intelligence in the top three receivers: The RX-A1080, RX-A2080 and RX-A3080. These three receivers are equipped with Surround:AI, a next-generation artificial-intelligence technology, which is designed for a clearer, more engaging listening experience by automatically adjusting audio levels on the fly to match the scene setting.
Yamaha claims Surround:AI is designed to automatically tailor audio performance to match individual scenes in a movie or TV show. The software analyzes the scene in real time and on a scene-by-scene basis and adjusts dialog, sound effects and channel balance. The AV receiver then compares the scene's audio characteristics to a reference database of movie scenes and automatically processes the scene's sound field to enhance the audio experience.
For example, Surround:AI makes dialog more intelligible in scenes with lots of background noise and big sound effects to ensure that viewers can hear softly spoken dialog and faint background sounds. 
The other huge addition to the RX-A 80 lineup is the introduction of wireless MusicCast Surround, which gives home theater fans the opportunity to use MusicCast enabled wireless speakers for a home theater's Surround Left and Surround Right speakers, each synchronized with wired front speakers. Although more convenient to setup than a wired speaker, the wireless option from Yamaha are a bit spendy with the MusicCast 20 costing $230/each and the MusicCast 50 costing $500/each. But, a single MusicCast 50 can be used for both surround channels for ultimate convenience or more budget minded audio enthusiasts.
The ninth generation AVENTAGE series delivers the performance and feature set that demanding music and home-theater enthusiasts appreciate "Consumers and custom installers alike will be able to use this tech to deliver top-quality home entertainment experiences in any space.
– Robert Goedken, general manager, AV division, Yamaha Corporation of America
 Build Quality, Custom Integration & Streaming Galore
The new RX-A80 series come with a sturdier frame-and-beam chassis with a fifth foot to dampen sound-degrading resonances, and an aluminum front panel that shields sensitive internal circuitry from electronic noise generated by dimmer switches and other home electronics. All models will also add out-of-the-box support for a trio of HDR (high dynamic range) video standards—HDR10, Dolby Vision and Hybrid Log-Gamma. And, as mentioned above, all six AVENTAGE receivers feature wireless MusicCast Surround, which not only gives you the opportunity to use wireless speakers for a home theater's surround, but also is designed to stream music from almost any audio source over a home's Wi-Fi network to multiple MusicCast audio products throughout the house for whole home audio. All the new receivers will have the ability to play back immersive 3D object-based Dolby Atmos and DTS:X soundtracks, which add height channels to traditional surround sound systems.
The new AVENTAGE RX-A 80 series receivers feature Bluetooth, Wi-Fi, MusicCast, Apple AirPlay, highly popular music-streaming services—Pandora, Spotify, SiriusXM Internet Radio, Deezer, TIDAL and Napster—and thousands of free internet radio stations. Other new AVENTAGE features include voice control via Amazon Alexa equipped devices, including Amazon's Echo smart speaker. Consumers will be able to control commonly used functions—such as on/off, volume, and play/pause/skip—without searching for a remote.
All models integrate with installed home-control systems such as Control4 and RTI, enabling consumers to turn on their home theater system, lower the lights, and close the shades with one button press. To ensure peak performance, all receivers can be remotely monitored by custom home-technology integrators using the Domotz or Ihiji solutions.
The RX-A 80 Series lineup starts with the RX-A680, a 7.2-channel receiver that drives immersive 5.2.2-speaker systems consisting of five front and surround speakers, up to two powered subwoofers, and two height speakers, respectively. It also features YPAO sound optimization, and four HDMI inputs and one HDMI output, all supporting 4K video up to 60 frames per second with HDCP 2.2 copy protection.
The RX-A780 adds multiple enhancements, including YPAO – R.S.C. (Reflected Sound Control) and YPAO Volume. The former automatically compensates for the muddying effect that furniture and walls have on audio clarity when speakers are placed nearby, while the latter automatically equalizes audio to deliver balanced low, mid and high frequencies at any volume level. The RX-A780 also steps up to five HDMI inputs, two HDMI outputs, and Zone 2 audio, which sends audio to a speaker pair in another room from a source independent of the source playing in the main listening room. It also adds an upgraded remote with new easy-to-use on-screen GUI.
The RX-A880 steps up to 100 watts per channel, seven HDMI inputs, two HDMI outputs, and YPAO – R.S.C with Precision EQ and multipoint calibration, both delivering higher levels of room-acoustics compensation.
With the RX-A1080, Surround:AI kicks in along with an ESS SABRE 32-bit DAC that produces an outstanding signal-to-noise ratio. Cinema DSP HD3 expands the 3D sound field of Dolby Atmos and DTS:X sound tracks. The RX-A1080 also comes equipped with seven HDMI inputs and three HDMI outputs and 110 watts of output per channel.
Next in line is the RX-A2080, whose 9.2 channels of amplification drive 7.2.2- or 5.2.4-speaker configurations. The receiver also packs in 140 watts per channel and features two 32-bit ESS SABRE DACs to further drive up audio performance. Both the RX-A2080 and RX-A3090 give you independent delay and level control for the dual subwoofer outputs which is useful for optimizing multi-subwoofer set ups.
At the top of the line, the 9.2-channel RX-A3080 connects to an optional external 2-channel add-on amplifier to deliver an 11.2-channel Dolby Atmos or DTS:X sound field through 7.2.4-channel speaker layouts. Other enhancements include 150-watt-per-channel output and DAC upgrades.
We're really excited about the newest iteration of the AVENTAGE receivers from Yamaha, and with a price from $600 to $2,200 there is a model to fit every Audiophiles budget and room configuration.The new Yamaha AVENTAGE receivers will be available exclusively at authorized Yamaha AV dealers at the following MSRPs and availability:
RX-A680 ($599.95 MSRP, May availability)
RX-A780 ($699.95 MSRP, May availability)
RX-A880 ($999.95 MSRP, June availability) 
RX-A1080 ($1,299.95 MSRP, July availability)
RX-A2080 ($1,699.95 MSRP, July availability) 
RX-A3080 ($2,199.95 MSRP, July availability) 
gene posts on June 04, 2018 00:02
With CEDIA just around the corner we're seeing an influx of new AV receivers from all the major manufacturers. Yamaha decided to update their entire AVENTAGE RX-A lineup of receivers with their new and improved AVENTAGE RX-A 80 series. With the top three receivers adding artificial intelligence for surround and dialogue optimization and all six adding wireless surround options, Yamaha is looking to stand out and be noticed.
24501

Read: Yamaha RX-A 80 Series AV Receivers Compared