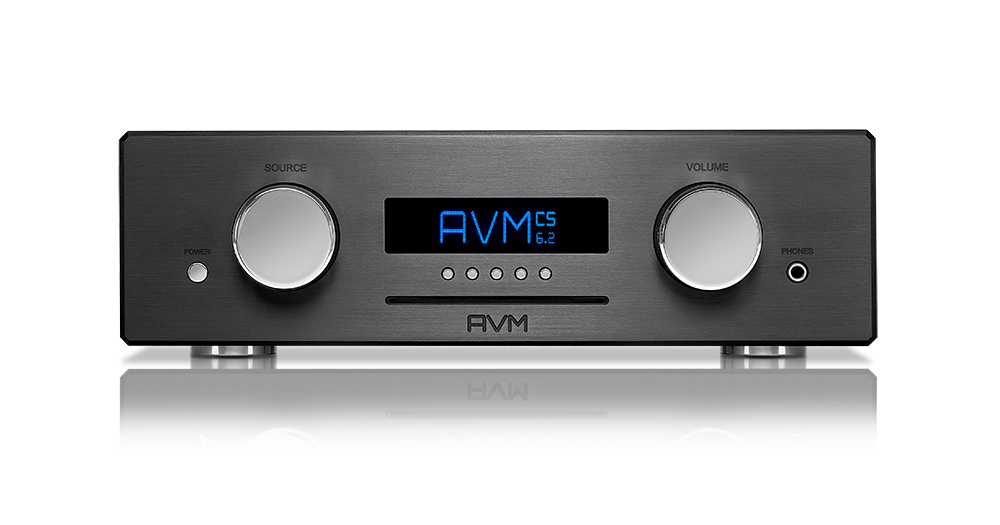 AVM Audio Video Manufaktur GmbH is a German company that has been around more than 30 years but has only recently made a significant push into the United States. They have a huge catalog of electronic components separated into three product lines. The Ovation series is their current top of the line brand. After living with the AVM CS 6.2 for several weeks I've come to believe the "V" in the company name really stands for "Versatile" as this single device can play just about anything (except phono which requires a separate phono stage) the modern audiophile has to draw from. It features amplifiers with 500W per channel output into 4 ohms (about 350W into 8 ohms), a sensitive FM tuner, a very fine CD player sourced to AVM exclusively from TEAC, analog inputs on RCA and XLR (for that external phono stage or reel-to-reel), six digital inputs (1 x USB: asynchronous [galvanically isolated, DSD64], 2 x SPDIF coaxial, 2 x SPDIF optical, 1 x AES/EBU), two analog outputs (RCA and XLR that can be used, for example, with a powered subwoofer), two digital outputs (SPDIF coaxial and SPDIF optical), an up-sampling digital-to-analog converter stage that can handle up to 384kHz/32 bit inputs PCM, and up to DSD128 (2X). In addition, the CS 6.2 can hook into your home network and stream from your network-attached storage, or internet radio, TIDAL, and QOBUZ. Oh, and it has tone controls! The entire unit can be controlled via Bluetooth from your cell phone using a free app, or using a very sophisticated and attractive programmable RC9 remote that is available as an optional accessory and can be used to control other AVM products if you have them in your system.
The AVM CS 6.2 is all solid-state. It has a sister component in the line, the CS 8.2, that is identical except for using two tubes in the line stage and costs $2000 more. The front panel is dominated by two large knobs on either side of a LED display. One knob controls the volume and the second switches among the inputs. Below the display are five small push buttons whose function changes depending which input is selected. The current function of each button is shown on the display. There is also a lighted push button on the left side that toggles the unit between standby and "on" states. The main power switch is on the back together with all the input, output, and speaker connections. Everything on the rear panel is well laid out, spaced, and labeled. The casework is splendid with the initials AVM etched deeply into the top panel.  The front panel is brushed aluminum but can also be ordered with a black front. The unit is quite compact for containing all of this capability measuring about 17″Wx5″Hx14″D and weighing a little over 25 lbs.
In operation, the CS 6.2 ran quite cool even when playing for hours at loud volume. This told me, even before I found out, that the amplifier section is a Class D switching type amplifier. AVM is not very forthcoming on their website about the amplifier technology they are using, but they readily told me when I asked. AVM uses class D power modules from Pascal in Denmark. I've auditioned about half a dozen class D amplifier designs over my years of reviewing for PF, however, this is my first experience with Pascal, which focusses primarily on the pro-audio market. I liked, but did not love, the other class D amps I've had in my home, but you will read below that I was favorably impressed by the Pascal amps as implemented by AVM.
It's worth noting that the CD player inside the CS 6.2 is quite special. AVM calls this True CD drive, built per their specs by Teac and is the only single focus CD drive out there with SPDIF output. All other drives are SATA output and not designed for audio but for data.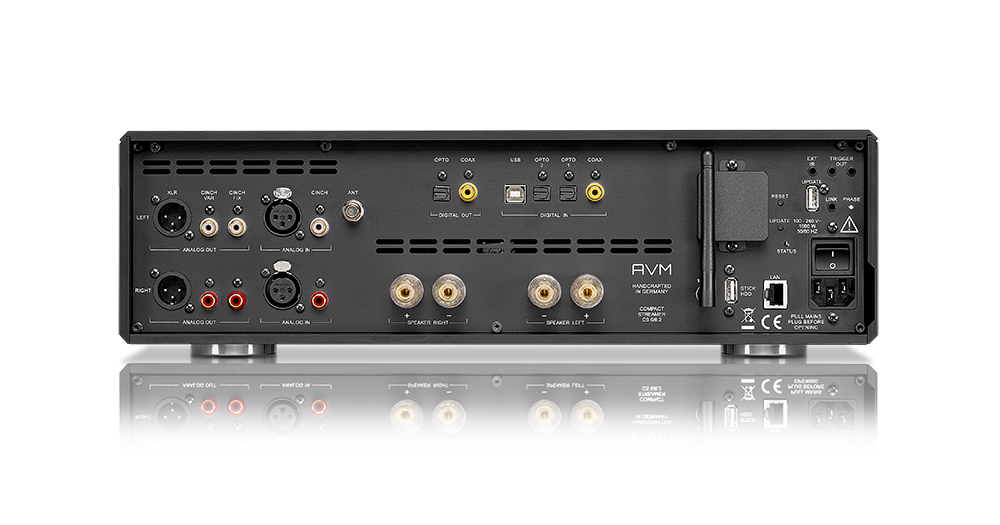 The DAC chip set used by the CS 6.2 is built around two ESS 9018 K2M Sabre32 DACs per channel for truly balanced conversion to analog, so it is a quad configuration. For music on the USB B input you can select either Lo-Res or Hi-Res playback. Lo-Res mode is used to play back files up to 96kHz sample rate with no additional audio driver for your PC or Mac. The Hi-Res mode can be used to play back PCM files up to 384kHz/24-bits and is also used for DSD playback.  The SPDIF inputs are only good for up to 192kHz/24-bit playback. The CS 6.2 also has sampling rate and filter options.  You can select playback at either the Native sample rate of the file, or you can up-sample or down-sample at various rates from 44.1kHz to 384kHz. There are also two filter options, smooth and steep, although their action may be different depending on the selected sample rate. I preferred the smooth filter option on almost everything I tried as its sound seemed most natural to me. The effect of the sample rate conversion varied according to the source material. Most often I seemed to like up-sampling to 192kHz, which happens to correspond to the approach used on all files by my reference EAR Acute 3 disc player.
The CS 6.2 also has an FM tuner, making it a true "Receiver". The tuner has both manual and automatic tuning modes and provides for storage of multiple station presets. I was unable to evaluate the FM tuner feature. First, I live in a poor reception area many miles away from any FM stations (I have been cursed with this problem in all three homes I have occupied in California for over 40 years. Either too far away or with a mountain in between me and the stations). Also, the CS 6.2 has an odd FM antenna connector that is not standard in the US. I did purchase what I thought was an adapter for this input connector, but I still could not receive any stations. The specifications on the FM tuner are quite acceptable but I can't comment on the sound. Judging by the rest of the unit I would expect it to be excellent.
The CS 6.2 has extensive streaming capabilities, much like the AURALIC Altair that I reviewed a few months ago. These worked seamlessly in my home network. I was able to stream internet radio and Tidal. AVM says Qobuz is also compatible. The CS 6.2 does not decode MQA files at this time.
I also want to comment on the tone controls and loudness controls. It's unusual to find such a high-quality audio unit with these controls, but I believe they will continue to appear in more and more devices as time goes on. I didn't spend a lot of time experimenting with these controls, but what I did find is that they work quite well, especially on material that has sound quality challenges. The tone controls can help damp highs that are too hot, or to add a little sparkle on dull recordings. They effectively help bass-shy recordings as well. You can select whether to apply bass and treble control on only one input or on all inputs globally, or you can select to bypass the controls. It's also great to see a loudness control. I used to own a Macintosh C26 preamp that had a very effective loudness control. I used it a lot. On the CS 6.2 the only complaint I had was that the tone controls were only accessible from the front panel of the unit and not from the remote control or the AVM control app on my phone. It was discouraging to have to get up from my listening position every time I wanted to adjust the controls. I hope this gets corrected in some future firmware update for the remote and app.
The CS 6.2 has many other features that I don't have room to mention. All are described in the owner's manual that comes with the unit or that you can download from the web. Overall, I found the manual to be a bit too terse and some things were not mentioned, such as the fact the tone controls could only be accessed from the front panel.
Setup
I felt PF readers that might consider a purchase of the AVM CS 6.2 would be most interested in how it sounds as an amplifier, and then how it handles digital sources. Hence, I decided I would evaluate the CS 6.2 from the amplifier end first and then go through the source options. I installed the CS 6.2 into my system initially as a substitute for my reference power amplifier (EAR 890). That is, I hooked it up between my speakers (Marten Django XL) and preamp (EAR 868) using the speaker cables (Kubala-Sosna Emotion terminated with Bybee speaker bullets) and interconnects (Kubala-Sosna Elation) that I normally use. I used the stock power cord that came with the CS 6.2, plugging it into my PS Audio Perfectwave Power Plant 10 regenrator. This AVM unit was used extensively at the recent Los Angeles Audio Show so it was already broken in. I did leave it on for over 24 hours before any listening.
My first impression, playing CDs on my reference EAR CD player going through my tube preamp, was that the sound was pleasant, but definitely missing something. Thus, began a series of experiments to try to wring more out of the CS 6.2. First, I threw away the stock power cord and substituted the Inex Innovation power cord that I normally use with my EAR 890. This power cord has an in-line active filter unit that works only on the noise riding on the wall power. This change made a very significant positive impact on the sound (AVM probably figures users will want to use their own power cords but supplies one for convenience anyway). I also found that the CS 6.2 sounded better plugged directly into the wall rather than going through the PS Audio regenerator. Next, I discovered the CS 6.2 did not seem to like my Kubala-Sosna speaker cables. The bass definition was only so-so and this muddied up the lower midrange as well. I tried a couple of other speaker cables I had on hand and settled on a pair of XLO Signature 3 speaker cables I reviewed some years ago. These cables seemed to bring out tighter and better-defined bass out of my speakers than the K-S cables and also improved the coherency through the midrange frequencies, but at some cost in high-end transparency and air. I also put some Stein supports underneath the AVM to reduce vibrational coupling into the unit. The CS 6.2 provides a quality of sound that makes it easy to hear the effect of tweaks like this on the one hand, but I can't be sure further optimization is not possible. I just had to stop somewhere. If you do purchase one of these units, plan to spend some time (and money) trading cables and such to get the most out of it. You will be rewarded. 
Listening Evaluation
So, my first evaluation playing sources through my reference electronics was of the amplifier built into the CS 6.2. I played a number of familiar CDs and some newly-acquired vinyl. The CS 6.2 does not sound like the monster amplifier you would expect from its 500W/ch power rating. Initial impressions were of an amplifier with great detail and delicacy that allowed the listener to hear the tiniest micro dynamics and to separate instrumental lines. I was impressed with the wide soundstage and the ability to float images outside the speaker enclosures. On the other hand, when the music demanded it, the CS 6.2 would explode in volume with seemingly limitless reserves. My speakers are not a particularly difficult load for most amplifiers, but judging from what I heard, the CS 6.2 would not have much trouble filling your room with music even with low-efficiency speakers, or those with challenging impedance variations. Like many other Class D amplifiers, the Pascal amps in the CS 6.2 produced prodigious, deep, solid bass response, as good as I have heard with my speakers in my room.  The power range in the midbass was also served up very well. Tonality through the midrange was terrific although not quite as warm as my reference electronics. The high end was very clear and extended and also very delicate. It had a bit of dryness typical of many solid-state amplifiers, but the resolving capability in the high end was above average. I did not get the last word in transparency and air achieved by the best amplifiers, but this is evident only in direct comparisons with a great reference amp. Overall, I was very impressed by the amplification in the CS 6.2. These Class D amps just keep getting better and better when implemented by skillful engineers such as those at AVM.
Next up was evaluation of the CS 6.2 CD player. This CD player works and sounds terrific. It handles the silver discs firmly and with precision, but wasn't particularly fast initiating playback. The user has the capability to select various sampling rates on the fly from the front panel (44.1kHz, 48kHz, 88.2kHz, 96kHz, 176.4kHz, and 192kHz). For each of these there is a choice between Smooth and Steep cutoff filters. The choice between filters is largely a matter of taste. I preferred the Smooth filter setting, but then again, I'm used to listening to an all-tube system. The sample rate choices are instructive to use as well, and result in audible differences. Regular CDs sounded much better to me when up-sampled to 176.4 or 192kHz than at the native rate of 44.1kHz. Truer tonal balance, more air and transparency, more detailed and wider imaging, etc. I compared the CD sound of the CS 6.2 to that of my EAR Acute 3 player attached to the CS 6.2 via Kubala-Sosna Elation interconnects. The EAR player is not that well known, but in my experience, is one of the best players ever made. It up-samples everything to 24-bit/192kHz. It did outshine the CS 6.2 in tonality, rhythm, sound staging, and overall realism, but it was a close thing. One way to describe the difference is that the EAR CD player's sound was more sophisticated than the CS 6.2 CD player. The CS 6.2 had somewhat better-defined bass, at least as heard in my system. In any event, the CS 6.2 has an outstanding CD player. Too bad it doesn't play SACDs.  
I next moved on to assessing music streamed over WiFi. I was surprised how well basic internet radio sounded on the CS 6.2. I often listen to classical music from various internet radio sources in the background while working. That music streamed through the CS 6.2 really got my attention. It was great! The experience with uncompressed files via Tidal was clearly better, however. Greater dynamic range, expansive soundstage, clearer highs, air around the instruments and performers, ability to hear the ambient environment, etc. The ability to change sample rates while listening to Tidal files was also illuminating and rewarding. Effects were subtle but clearly improved as the sample rate was increased. I think AVM has hit a home run with the streaming capabilities of their CD receiver.
However, the full potential of the CS 6.2 was realized playing high resolution digital files from my music server. I use a Mac Mini as the center of my music server system, with some music stored on its internal solid-state drive and the majority on a large 4 TB external hard drive. I'm currently using Amarra as my playback software and I connected the Mac to the USB B input on the CS 6.2 via an Inex Innovation USB cable (not currently available but may come back on the market under another brand name soon). I am often frustrated evaluating digital music because there are so many variables (e.g. DAC implementation, digital interfaces, cables, file provenance, playback software, etc.). I usually just revert to sitting back and gauging my enjoyment of the music rather than try to pick apart specific differences. With that said, I can tell you that my most enjoyable times with the CS 6.2 were spent going through my digital library. On Redbook files (16-bits, 44.1kHz) the CS 6.2 sounded about the same as it did playing from physical CDs. That is, outstanding especially when up-sampled to 176kHz or 192kHz. Wonderful dynamics, detailed highs, smooth midrange that was perhaps a little on the cool size, palpable images, and so on. However, the sound was even better on high resolution PCM files. The most striking differences were in transparency, air, and imaging which improved noticeably on these files. I was able to follow individual instruments and other musical lines more easily and the positioning of the individual players was rock solid. The soundstage was deeper and defined more clearly and the ability to hear ambiance of the recording environment was much easier. These PCM files had a greater feeling of rhythm and musical flow that greatly enhanced the musical enjoyment. The music was more coherent and easier to follow. Comparing the performance of the CS 6.2 to the AURALiC Altair that I reviewed a few months ago—I no longer had the Altair for a direct comparison—but from memory it seemed to me the level of performance (i.e., musical enjoyment) was very much the same between the two. The Altair costs quite a bit less than the CS 6.2, but has nowhere near the functionality.
Finally, I listened to quite a few DSD recordings in my library played back through the CS 6.2. I am a strong believer in DSD, but I personally haven't been able to get the purity of playback in my home system from these files that I have heard at the homes of some of my audiophile friends. The CS 6.2 plays DSD files equally well with PCM files, which is terrific. I really enjoyed my time listening to these files. However, I did not get the same charge out of them that I did with the AURALiC Vega reviewed several years ago. The Vega is a terrific DAC especially for DSD, and superior to the newer AURALiC Altair. Since the Vega review, much in my system has changed, including the playback software. It's probably not a fair comparison, the Vega versus the CS 6.2, given the time that has passed. Although enjoyable, I felt there was more to be had from DSD. Maybe more tweaking.
Summary
The AVM Ovation CS 6.2 deserves a standing ovation. It has outstanding musical quality, build quality, convenience, functionality, versatility, and looks. Just hook up some speakers and pair it with a phone or computer for a compete musical experience. Or, you can integrate it with an existing analog system to provide all the digital functionality you need together with a powerful amplifier. It is not inexpensive, but this single component replaces a boatload of other stereo equipment and cables, so it really provides fine value. Also, it would be hard to get the same level of sonic performance out of an equivalent group of separates and their accessories. I strongly suggest you check it out.
AVM Ovation CS 6.2 CD Receiver
$10,995 MSRP, optional RC9 Remote $699
AVM Audio Video Manufaktur GmbH
Peder Bäckman
Sales Manager America's
Tel.:+49 (0) 7246 30991-20
Mobil EU: +49 173 866 9023
Mobil US: +1 510 901 9477