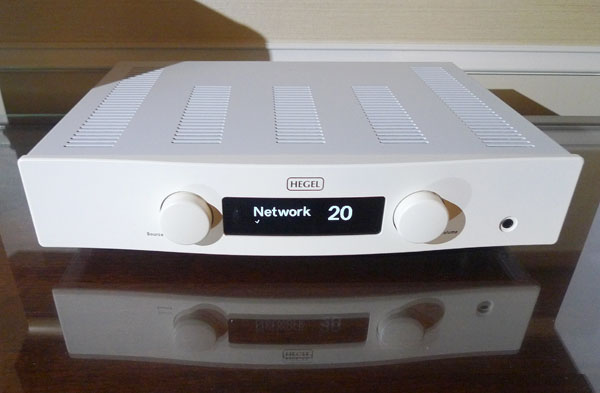 I know that Hegel Music Systems founder and chief engineer Bent Holter named his company after a music group he used to play in, called the Hegel Band. But…every time I listen to recordings via products made by Hegel Music Systems, my mind still drifts to the analytic-poetic philosophies of Georg Wilhelm Friedrich Hegel (1770–1831)—and it's not just because they all share a name. Even when I am not playing German music from the Romantic era, I speculate about how naturally Hegel products synthesize my experiences of sound (objective) and music (subjective) in a way that overcomes and negates these classic audiophile dualisms. Everything just seems correct in a Hegelian way.
I reviewed Hegel Music Systems' H160 integrated amp ($3500) in the June 2015 Stereophile, and I am currently auditioning Hegel's iconoclastic, 44.1 only, CD only, Mohican disc player ($5000). Today, Hegel (the company) is showcasing its 75Wpc (8 ohms) Röst integrated network amplifier ($3000) with Ethernet, AirPlay, and IP control.
Perhaps because of Bent Holter's recent revision of his "distortion-reducing" SoundEngine technology, the elegant Röst drove the desktop-mounted KEF-LS50s with purity, lust, and musical authority. On the Röst's dark backside, I spotted one balanced (XLR), one unbalanced (RCA), and one home-theater input. For digital, it has one coaxial, three optical, one USB, and one Ethernet (RJ45) input. Besides loudspeaker binding posts, it has a variable-level line output. Best of all: it comes in white.