In 2010 MartinLogan released their Motion Series Speakers with their trademarked Folded Motion tweeters.  Since then, the Motion series has seen several iterations, models, and size changes. This week at CEDIA in San Diego, California, MartinLogan announced five new Motion Series speakers, including four compact speakers and an ultra-slim non-powered 3-channel soundbar designed expressly for super-thin televisions.
With these newest additions, the Motion Series now starts at under $180 (US retail) per channel for their 2i series speaker and under $1,500 (US retail) for a complete 5.1 channel MartinLogan home theater system (including a MartinLogan Dynamo Series subwoofer).
Motion 2i and Motion 4i
MartinLogan Motion 2i (left) and 4i (right)

Compact Motion 2i and 4i bookshelf speakers are designed to work as front or surround channels in freestanding bookshelf applications or mounted to a wall. The Motion 2i and 4i bookshelf speakers can also mount upside down to facilitate placement high on a wall. With a trend in immersive audio like Dolby Atmos and DTS:X forget about upward firing speakers. For $180 each, you can get four compact sized, easily wall mountable Motion 2i speakers to create a killer 5.1.4 system without having to cut holes in your ceiling to install height channels.
 Motion 6i and Motion 8i
Compact Motion 6i and 8i speakers are designed for center, front, and surround channel applications. Designed with flexibility in mind, both models are equally adept at both on-wall or freestanding applications. When mounted on the wall, the Motion 6i and 8i can mount horizontally or vertically around a flat screen television.
Motion SLM X3
Although nowhere near as prevalent as soundbars with internal amplifiers, a few companies offer passive (nonpowered) soundbars. The Motion SLM X3 from MartinLogan comes with six ultra-slim fiber cone woofers to provide low-end bass extension from an ultra-slim profile and three advanced resolution Folded Motion tweeters.  The high-gloss black cabinet is less than two inches deep when installed on a wall with its magnetic grille and low-profile wall mount bracket.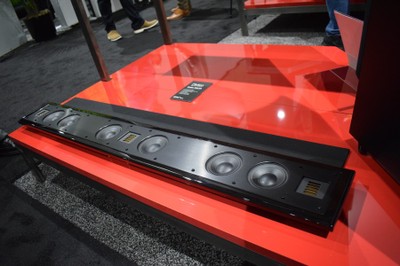 Motion SLM X3 3-Channel Soundbar (non-powered)
The Motion SLM X3 also comes with keyhole slots on the speaker's back panel that attach easily to the included wall bracket.  If on-wall mounting is not appealing, SLM X3 includes "kick-stand" brackets that attach to the back of the cabinet, allowing it to free-stand. Just remember, you have to have a receiver or amplifier for power.
The complete Motion Series comprises of three floorstanding speakers (Motion 20, 40 & 60XT), two bookshelf speakers (Motion 15 & 35XT), two compact front/surround bookshelf speakers (Motion 2i and 4i), two center channels (Motion 30 and 50XT), two compact center/front/surround channels (Motion 6i and 8i), and three ultra-slim speakers (Motion SLM, SLM XL, and SLM X3).
All models of Motion speakers are currently shipping.  Although we haven't had a chance to fully review them, if they're as good as the previous models of Motion speakers, these new models are really going to give you great bang for your buck!
gene posts on September 08, 2017 20:44
MartinLogan released 5 new models from their Motion series of loudspeakers this week at CEDIA in San Diego, California. The newest products include two new bookshelf models, two small floor standing models, and a passive soundbar. All models feature their Folded Motion Transducer and other technologies unique to the brand. With prices starting at $180 each for the Motion 2i bookshelf, these newest round of Motion speakers look to be a great deal for a quality speaker.
22234
Read: MartinLogan Expands Motion Series with New Bookshelf & Floorstanding Speakers