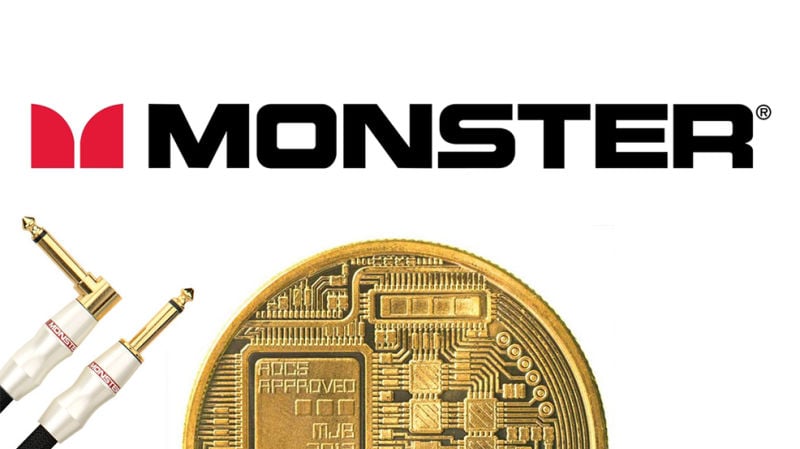 Monster, Inc. (formerly known as Monster Cable) will try to raise $300 million by selling its own Bitcoin-like cryptocurrency, called Monster Money Tokens. The San Francisco-based company recently filed for the ICO (initial coin offering) with the US Securities and Exchange Commission, announcing that the proceeds of the sale would be used to develop a Monster-branded e-commerce platform called the Monster Money Network. (Monster's online storefront is currently powered by the Shopify platform.) Like other cryptocurrencies, the Monster Money Tokens will be managed by a blockchain, which is a continuously growing list of records (or "blocks"), that are linked and secured using cryptography. Monster is not the first company hoping to cash in on the cryptocurrency trend and the sale of the digital assets that make the (admittedly confusing) technology work. Facebook is reportedly looking into the possibility of building its own digital currency for secure online payments, and overall ICO sales exceeded $4 billion in 2017. But SEC Chairman Jay Clayton has warned investors to be wary of the risks involved. There is less protection in place for investors in cryptocurrency and ICOs than there is in traditional securities markets. In this uncharted territory, the risk of fraud, market manipulation, and scams runs especially high.
Monster already has a complicated relationship with the audiophile community. The company was among the first to introduce to the public at large the idea that something as seemingly simple as speaker cable might actually affect the performance of an audio system, and the entire premium cable industry owes much to that pioneering work. That accomplishment alone would be enough to secure a position of respect for most companies, yet I don't know many knowledgable audiophiles who look to Monster for their own systems. Some prefer other mainstream cable brands, such as Audioquest, while others embrace smaller boutique manufacturers, like Black Cat Cable's Chris Sommovigo. Budget-conscious shoppers and cable skeptics turn to no-nonsense online vendors, such as Blue Jeans Cable. (I personally own products from all three.) Whether an audiophile is looking for the best possible performance, or the highest bang for the buck, Monster rarely enters the conversation. Some doubt the value proposition of Monster's product offerings, while others are put off by the company's litigious behavior. Throughout the 2000s, Monster brought lawsuits against other cable companies (including Blue Jeans), and had trademark disputes with a wide variety of entities with "Monster" in their names — everything from the Pixar movie "Monsters, Inc." to the job-listing website Monster.com. Monster even went after a small miniature golf chain in 2008.
In that same year, however, Monster was at the forefront of yet another audio revolution. The company partnered with Dr. Dre and Jimmy Iovine to build the first generation of the now-ubiquitous Beats By Dre headphones. Millions of regular people who had previously listened to music through freebie earbuds were suddenly willing to spend hundreds of dollars on premium headphones, and the market exploded. But audiophiles know that those first Beats headphones sounded truly terrible. Monster was in a unique position to introduce high-performance audio to an enormous new audience, but produced an inferior product that only succeeded due to styling, marketing, and a celebrity endorsement. Beats headphones have improved since parting ways with Monster, while Monster's revenue stream suffered significantly as a result of the split. This drop in revenue is possibly one driving force behind Monster's decision to try to line its pockets via its ICO, and create its own blockchain-based e-commerce platform. "We intend to utilize the blockchain technology in our marketing, accounting and audit, internal control, and shipping management functions," the company stated in its filing. "We believe the blockchain innovation will bring disruptive advancement to our e-commerce and business operation systems." Potential investors should note that Monster says in the filing that the company must reach its goal of $300 million in Monster Money Token sales order to move forward with the development of its blockchain technology. If the sales fall short of that amount, Monster will have to secure additional funding via more traditional means. Failing to do so would force the company "to modify or suspend (its) business plan, which could result in investors losing all or most of their investments."
Does that sound like an appealing investment opportunity to you? Share your thoughts in the related forum thread below.
Johnny2Bad posts on June 10, 2018 08:20
I thought they already had …, I'm pretty sure I've seen the coins, although they tended to be in the shape of cables.
Beave posts on June 10, 2018 01:24
DId they get this idea from watching the most recent season of Silicon Valley?
lovinthehd posts on June 10, 2018 00:40
Noel Lee can suck it.
gene posts on June 10, 2018 00:30
Everyone's favorite cable company we love to hate is looking to break new grounds in the audio world. Monster is selling its own Bitcoin-like cryptocurrency called Monster Money Tokens. Monster hopes to use the funds to develop a new e-commerce platform powered by blockchain technology. Cryptocurrencies can be big money-makers, but are the potential rewards worth the big risks for investors? Is Monster a household name among the general public or does it have enough credibility left with audiophiles after all the lawsuits they've waged to pull this off?
24537
Read: Monster Aims to Sell Its Own Cryptocurrency