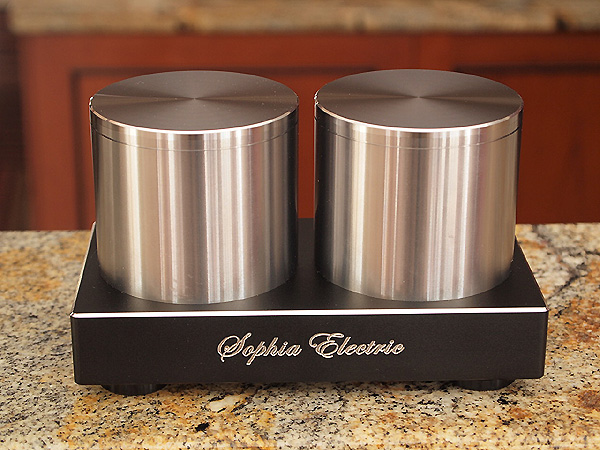 All components in BOLD are loaned; all components in standard face are owned by me.
LOUDSPEAKERS
Tonian Labs TL-D1 Loudspeakers with custom cabinet with real wood Bamboo finish.
ELECTRONICS
Margules U280SC Class A tube amplifier (new Version), Marantz PM-15S1G Reference Series Integrated amplifier ("Signature Edition" upgraded by The Upgrade Company), Antique Sound Labs MG-SPM25DT SE mono block tube amplifiers modified by Response Audio, Monarchy Audio SM-70 Class-A amplifier.
SOURCES
Marantz SA-15S2 Reference Series SACD/CD player ("Signature Edition" upgraded by The Upgrade Company), Kuzma Stabi S turntable, Stogi arm, Audioquest 4004i cartridge modified by van den Hul, Sony BDP-S350 Blue Ray Player, Onkyo Model T4 Servo Locked Stereo tuner. Stock MM/MC Phono preamplifier in Marantz SA-15S2.
CABLES
JPS Labs Superconductor Q Series interconnects and speaker cables, Power AC+ , GPA2, and Digital AC power cords, Analysis Plus Solo Crystal Oval interconnects, Oval 12 speaker cables, Soundstring Tricormaxiel speaker cable, PC 30A and 10A power cords, and Octaphase "Alpha Series and Omega Pro Line" interconnects. Oyaide power cord, PS Audio C-4 power cord., Monster Cable M Series HDMI 1.3 cable, Parts Express HDMI cable.
ACCESSORIES
Can't Live Without's, Gingko Audio Cloud Ten (2), Vibrapod Isolators (various sizes), and Cones, Ultra Systems' Hi-Fi Tuning Fuses, (various sizes peppered throughout my gear), Ultra Systems Cathedral Sound Panels, (4), Custom made gear racks for turntable and gear. Support staff, Balanced Power Technologies BPT 4SE power unit, Brick Wall Series Mode Surge filter (2 outlet), Quiet Line Parallel Power Line Filters, Bybee filters (inside ASL amplifiers), Nitty Gritty record cleaning machine, PS Audio Zero Static record brush, Flitz Metal Polish, Caig ProGold, and Deoxit, Mondial Antenna Ground Isolation Circuit (for incoming Time Warner cable), Walker SST Extreme, Mapleshade Mikro-smooth CD polishing kit and Ionoclast Ion Generator, Bright Star Isonodes, EAT Cool Dampers, Hal O Rings, Cardas, Clearaudio, Hi-Fi News Test LP's, Smoke On The Water, Senor Coconut and his Orchestra used as test LP, generic ferrite rings, ERS paper, Custom made wooden cable lifters by Mr. Clark senior, Ceramic Insulator cable lifters, JandJ, EI, Sovtek/Electro Harmonix, Ruby, SED, Jan Phillips, Sylvania Electron Tubes, Amoeba Music Store record bag!
Shamelessly good and cheap music system
Fatman iTube integrated amplifier, Sony Play Station 1, Panasonic DVD S53 DVD Player, PS Audio Digital Link III, (soon to be used with my PC) LAT International digital cable, Supra Line 2.5 speaker wire, Kimber Cable Hero interconnects, Insignia NS-B2111 loudspeakers, Lovan speaker stands, Sony NWZ-E438F Digital Media Player (MP-3, 8Gig), Original Master Headphone Amplifier (not shown), AKG K300 headphones (not shown), Ikea Expedit rack. 
OK there it is and not too soon. I offer a thousand apologies for not updating this sooner. I have lived with the excellent Margules tube amplifier for over three years and it has never appeared in these pages other than mentioning it in reviews. It is my best amplifier and my workhorse. Shame on me! It will soon be replaced by the latest version Margules has to offer. Other gear have come and gone sadly without much fanfare. In the past several years I have vowed to pare down my system to a couple of integrated amplifiers and leave it at that. Ever since my review of the excellent Tonian Labs TL-D1 speakers, my attitude towards gear and recordings in general has changed significantly. I'm getting there. But boy does this hardware suck you in like the preverbal black hole! Therefore it would be real hard for me to sit here and go on and on about how much I love music. We are gear heads! We love gear! We review gear! OK we love music too.
Wife's System
Monitor Audio iDeck with a hand me down iPod loaded with RandB.